Read on to find out about our sporting curricular and extra-curricular opportunities
as well as other experiences for the academic year 2018-2019
2018-2019
Tewkesbury Primary Schools' Sports Network's Netball League Round 1 @ Tewkesbury School - Tuesday, 16th October 2018
Our new netball squad for 2018-2019 headed over to Tewkesbury School and competed in the first round of this year's Tewkesbury Primary Schools' Sports Network's Netball League. Despite only two after-school training sessions so far this year, the team performed amazingly!
The first round of the league involved Tirlebrook competing in 3 games. Our first match was against Carrant Brook and the children were determined to win their first game. Every player on the court contributed superbly to a 4-0 victory, with fantastic goals from Ruby Butler and Matthew Fowler. And the success did not stop there.
After shaking hands and saying three cheers to Carrant Brook, the team were straight in to their second game against The John Moore Primary. Although the game was a friendly, the children still pushed themselves to work hard and to work brilliantly as a team. Finlay Whittard played brilliantly in defence; he was able to get in front of his player and was able to stop several vital passes between The John Moore's attackers in the shooting semi-circle. The game ended in a 2-2 draw, with neither team deserving to be victorious in what was a good-spirited, highly competitive and closely fought game.
The team's third match, but second competitive game, was against Deerhurst & Apperley. Again the match was close, but Tirlebrook managed to fight for the win, scoring 4 goals to Deerhurst's 1 in reply. This time, Matthew and Charlotte Peirce were our goal scorers, with Ruby now playing in defence.
The team headed into the next game extremely positively - another friendly, this time against Ashchurch. This match was the most competitive and challenging of the evening, and there were strong players on court for both teams. However, due to their fantastic determination and grit, Tirlebrook finished with another draw, 3-3, a score that the team were extremely happy about.
Our final game of the night was against Mitton. By this point in the competition, the team were really becoming fluent. Their communication had improved as the games went on, their ability to spot space and their team players was constantly developing and their shooting had become far more accurate. Combining this fluency with a huge amount of positivity, the team stormed to victory with a 6-0 win. This was a result that most definitely put smiles on everyone's faces. It was very clear that the team were very proud of themselves and each other. What a successful night it turned out to be - the whole team demonstrated the Tirlebrook team spirit and fantastic sportsmanship that we have become accustomed to. Every team member made a huge contribution, including William Bethel and Gracie Janes who were extremely strong in defence throughout the evening, intercepting many passes and blocking many goals. The team needed everyone to perform well and to contribute and they would not have achieved what they did without this. It is extremely surprising to think that with such success in the first round, not one of our team members had played competitive netball before. We hope that this experience has given them a taste of what netball has to offer.
At the end of the competition, Matthew, our top goal scorer of the day, was awarded a School Games Band for 'Honesty'. Congratulations Matthew. You should be very proud of yourself! After the points were added and 'the scores were in', we are delighted that the Tirlebrook team have got exactly what they deserved - an undefeated second position in the Netball League so far. We are sure that they cannot wait until Round 2!
Squad: William Bethel, Ruby Butler, Matthew Fowler, Gracie Janes, Charlotte Peirce & Finlay Whittard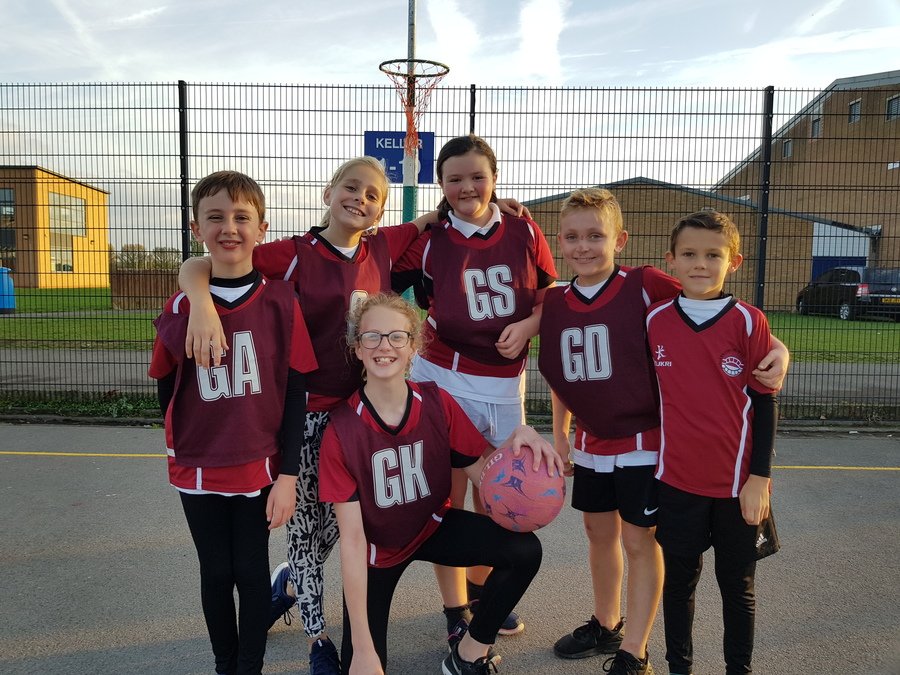 Tewkesbury Primary Schools' Sports Network's Cross Country Race 3 - The Vineyards - Thursday, 11th October 2018
We were very lucky yesterday to avoid the wet and windy weather, as the children participated in their final cross-country race of the Autumn season.
The course was marked out, the children were gathered and they were all excited and raring to go!
It was the girls' turn to run first and it wasn't long before the race began. All of the girls ran extremely well, competing strongly for their place at the finish. Charlotte Peirce stormed ahead and beat her last result by one position, coming in in 4th place. The next girl through the finish was Gracie Janes, coming 7th again, displaying incredible consistency this Autumn. Keira Hancox was the next Tirlebrook runner home, coming in 21st position - an excellent finishing result from one of our new runners from Year 4.
The boys' race followed and Silas Fox maintained his 100% record of winning each race so far this year, this time putting an even greater distance between him and the chasing pack. Ewan Gosden performed phenomenally and earned a third personal best in a row, finishing in 4th position - a quite remarkable achievement for a Y4. Aaron Lyon has also had an excellent season so far, finishing in a consistent 12th position - a finish that he most definitely should be proud of. There was also a terrific personal best for Finlay Whittard as he came over the line in a season's best 20th position and Jordan Tredwell recorded a 74th position finish in his very first race representing Tirlebrook.
All of the runners ran brilliantly again this week, despite having the Mop Fair visit Tewkesbury, which caused great excitement but late nights. It was wonderful to see so many of our runners cheering each other on and smiling with pride as they finished their final race before Christmas.
Well done to everybody who has been involved this season, including the children, parents and staff. It is a great community event that we are extremely proud to be a part of. The team is in an excellent position going into the new year and there is a very real possibility that our trophies and shields from last season can be defended. We cannot wait to see what happens when we return in the Spring.
Team: William Bethel, Owen Burford, Esme Burton, Tilly Burton, Edward Ferrier, Silas Fox, Julia Gardiner, Ewan Gosden, Keira Hancox, Gracie Janes, Aaron Lyon, Paddy Mace, Isobel McLaren, Chloe Messenger, Sophie Messenger, Freddie Parsons, Charlotte Peirce, Poppy Radbourne, Martha Simpson, Harriet Taylor, Jordan Tredwell, Leah Trust, Harrison Turner & Finlay Whittard
Tewkesbury Primary Schools' Sports Network's Cross Country Race 2 - The Vineyards - Thursday, 4th October 2018
Another beautiful afternoon at the Vineyards in Tewkesbury greeted over 200 children for race number two of this year's cross country season. And this second race of the year most definitely did not disappoint! The warm sunshine was not the only thing to bring some autumnal cheer as the Tirlebrook team demonstrated even greater determination and self-belief than the week before, pushing themselves to the limit in an effort to improve upon last week's team results and beat last week's individual race positions. Any improvement in finishing position this week would be an outstanding success with the larger field of runners - an increase of 18 and 16 in the girls' and boys' races respectively.
This time, the boys were up first - a race that was certain to be competitive and close. Silas Fox picked up from where he left off last week, and despite the tough competition and in particular a very strong challenge from Joe from Ashchurch, he finished extremely well to win the race and maintain his first position in the individual boys' cross country competition. Ewan Gosden, a current Y4 student, finished next for Tirlebrook, improving by ten places on last week's race as he stormed to a personal best of 5th! Aaron Lyon continued his consistent performance, coming home next to cross the finish line in a highly commendable 12th. Another of our Y4 runners, George Teasdale, also ran strongly as he jumped ahead of his last week's finishing position of 34th to cross the line in 25th. William Bethel, Finlay Whittard, Freddie Parsons and Y4 Paddy Mace, improving by 13 places to finish in 69th place, were next through the gates, followed closely by Joshua Smith, Harrison Turner, Edward Ferrier and Leland Pratley, who ran every metre with a giant smile on his face, improving on his last place position last time out. It was great to see him encouraging another young lad from Mitton at the rear of the field. Well done boys - it was another great success for you all.
The girls were up next and it was amazing to see so many girls representing Team Tirlebrook, showing all of Tewkesbury their fantastically competitive and enthusiastic attitudes. The girls' race was just as competitive as the boys' race, with each girl fighting for her position right to the finish line. The first girl home again this week was Charlotte Peirce, finishing in 5th position, an improvement of four places on last week. Gracie Janes came next, zooming past several runners in front of her to grab a top-10 position in 7th place, once more an improvement of four places on last week. Julia Gardiner was the third girl home in 15th position to complete a very competitive team score of 27 points for Tirlebrook, with Martha Simpson next in 19th, meaning four girls in the top 20. However, the success and personal bests did not stop there: Tilly Burton finished in 22nd position and Leah Trust came home in 29th. There were also first appearances of the season for Esme Burton, Chloe Carroll and Sophie Messenger. The girls' team all ran brilliantly and they should all be very proud of themselves for competing so well in such a challenging race.
The final race of the Autumn Series takes place next week before a winter break, with the remaining races in the competition taking place after Christmas.
Team: Hattie Akerman, William Bethel, Tianna Booth, Esme Burton, Tilly Burton, Chloe Carroll, Edward Ferrier, Silas Fox, Julia Gardiner, Ewan Gosden, Keira Hancox, Gracie Janes, Aaron Lyon, Paddy Mace, Isobel McLaren, Chloe Messenger, Sophie Messenger, Freddie Parsons, Charlotte Peirce, Leland Pratley, Poppy Radbourne, Martha Simpson, Joshua Smith, Harriet Taylor, George Teasdale, Leah Trust, Harrison Turner & Finlay Whittard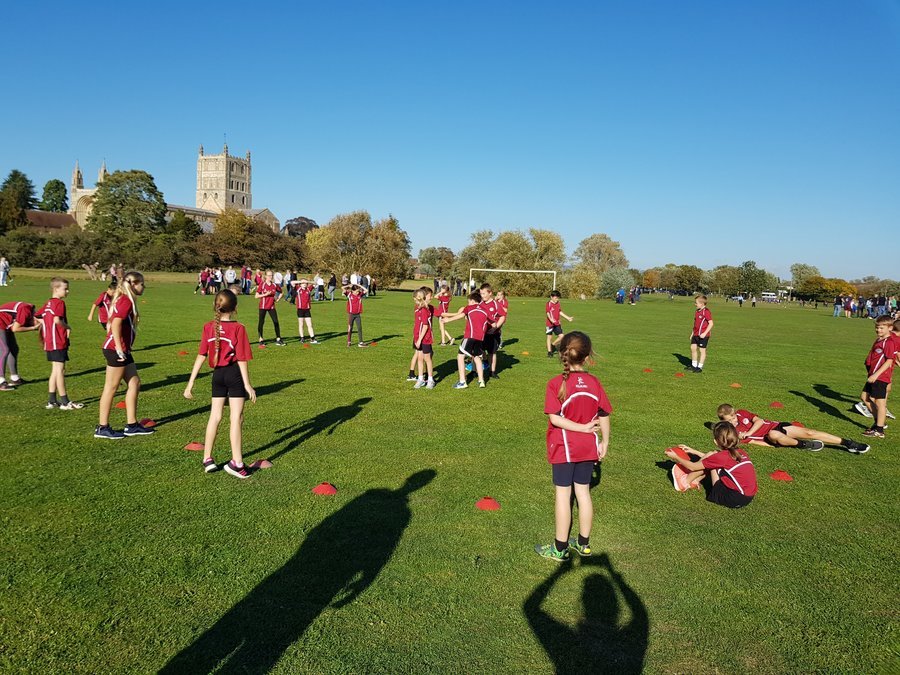 Tewkesbury Primary Schools' Sports Network's Cross Country Race 1 - The Vineyards - Thursday, 27th September 2018
As Tirlebrook ventured down to the Vineyards in Tewkesbury in the beautiful sunshine, the excitement and anticipation was building. Our very first competitive opportunity of the year was upon us, a competition that would include a great many of our KS2 children, from Years 4, 5 and 6.
The girls' race was up first and after the initial instructions it began. Our determined runners tried their best to overtake, get ahead and to gain a great position in the event. Their hard work most definitely paid off as we congratulated our first 5 runners in the girls' event: Y6s Charlotte Peirce (9), Gracie Janes (11), Martha Simpson (12) and Harriet Taylor (13), and Julia Gardiner (14) from Y4 who all finished in the top 15 positions. Not only were we applauding them on their great success, but we also celebrated the amazing achievements of our runners who had improved from last year, including Hattie Akerman who managed to gain a top 30 position for the very first time. Our new runners from Year 4 stormed through to the finish line too! Considering this was their very first cross country event, they performed absolutely superbly. Following Julia's incredible 14th position, Keira Hancox came next, achieving a brilliant 17th with Tilly Burton not far behind in 27th position and Chloe Messenger in 39th, of out over 80 girls altogether! What a phenomenal first race. We are sure next week will be even better, now that the girls have had their chance to work out the course. Well done girls!
The boys race was highly competitive. Thirteen of our KS2 boys were running in our first race. It was great to see new faces from Y4 but to also see the familiar faces from our committed Year 5 and 6 runners too. Silas Fox, runner-up in the overall individual competition as a Y5 last year, was the first boy home from Tirlebrook, working hard to win the race. Many congratulations - what an achievement! After setting himself the personal challenge of finishing in first position, Silas most certainly did not disappoint. Soon after, Silas was joined by a flurry of boys with Aaron Lyon our next best-placed runner in 11th position, Owen Burford in 13th position and Ewan Gosden from Year 4 in 15th! This was a particularly fantastic achievement by Ewan, who was running his very first race. Excellent results were to follow, as Finlay Whittard stormed through in 23rd, William Bethel in 31st, George Teasdale in 34th and Freddie Parsons in 51st.
What had already been a very successful race did not end there. Further great finishes soon came from Joshua Smith, Edward Ferrier, Harrison Turner and Paddy Mace and they should all be very proud of their efforts. The moment where Tirlebrook really showed their truly caring, community-minded and positive spirits was when they all joined together to support, run with and cheer on our final runner. Leland Pratley, who was running for the first time, completed the course, coming in in 100th position, and although he found it challenging, his determination and spirit to complete such a challenging event was delightful to see. We are so proud of all of our participants but also all of the parents, children and supporters who were there to smile and celebrate a very successful evening. We even had the pleasure of seeing Mr Lockley who was there to cheer us on too!
Team: Hattie Akerman, William Bethel, Tianna Booth, Owen Burford, Tilly Burton, Edward Ferrier, Silas Fox, Julia Gardiner, Ewan Gosden, Keira Hancox, Gracie Janes, Aaron Lyon, Paddy Mace, Isobel McLaren, Chloe Messenger, Freddie Parsons, Charlotte Peirce, Leland Pratley, Poppy Radbourne, Martha Simpson, Joshua Smith, Harriet Taylor, George Teasdale, Leah Trust, Harrison Turner & Finlay Whittard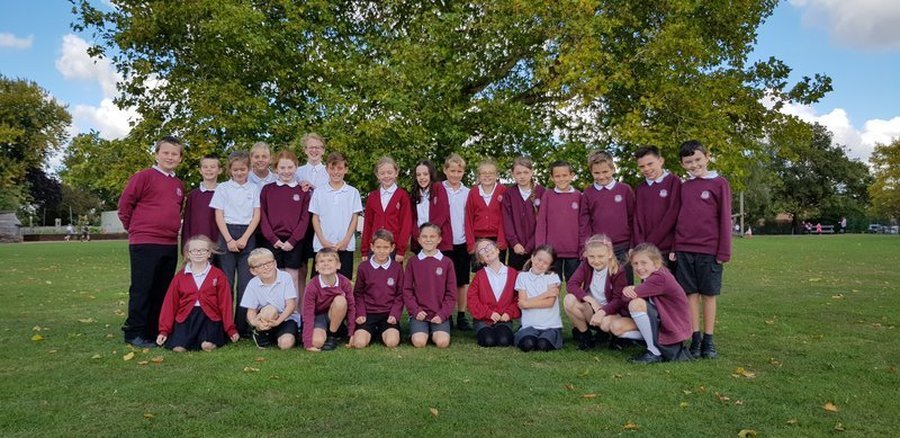 Active Gloucestershire School Games Awards - Cheltenham Town Hall - Thursday, 13th September 2018
Tirlebrook were extremely excited to attend the Active Gloucestershire School Games Awards evening, held at Cheltenham Town Hall. Parents from our previous Year 6 class, their children and a group of Tirlebrook staff proudly came together to attend the awards. Before taking our seats, the children and their families were invited to take part in a range of engaging and active activities, including circus skills, Zumba, dance workshops and many more! The evening began with many thank yous, congratulations and finally a presentation about 'Why we do what we do, who is it for?' and 'What kind of impact are we truly having on the children's lifestyle choices?' Along with four other schools, Tirlebrook were nominated for the 'Highest Participation in sporting events by a Primary School' award - this is something that we have been regularly recognised for over the last few years. Unfortunately, Tirlebrook did not take home the trophy on this occasion. However, we feel extremely proud as a school to have been nominated and recognised. It was a wonderfully positive evening that enabled us all to look back with pride on the superbly successful year that we have had in 2017-2018. Thank you to all of the children and parents who attended to celebrate our nomination with us. Thank you to all of the staff who attended too, showing their commitment to our school, as without them, we would not be able to achieve any of it! A final thank you goes out to a special member of our school, Mr. Lockley, who worked hard to put together our application for this award. We are so proud of our school!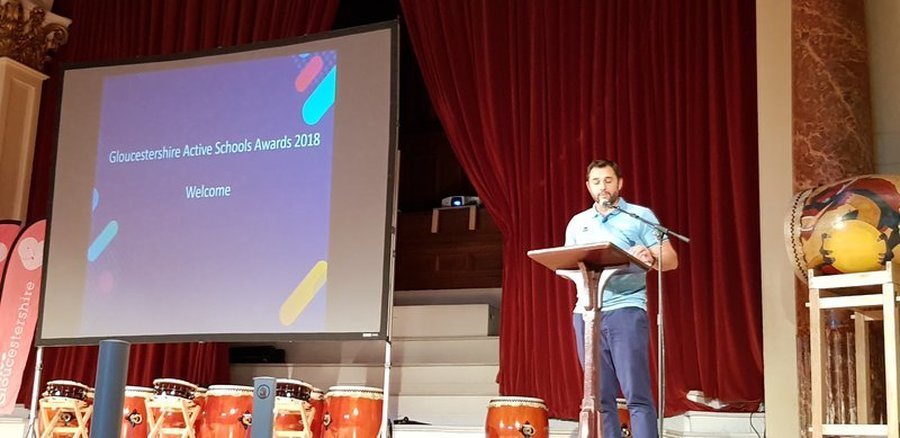 KS1 Cheltenham Town Football Coaching - Wednesday, 12th September 2018
Our Year 1 and Year 2 class were very lucky this week, as they were visited by not only Cheltenham Town Football Community Coaches but they were also introduced to their flighty CTFC mascot, Whaddney. The children had lots of fun, playing team games, developing their balance and agility, and putting all of those skills into action as they completed a range of football drills, led by the coaches. Over the next eight weeks, the children will work with the Cheltenham Town coaches every Wednesday afternoon, during their PE sessions. The coaches will be planning and delivering sessions that enable the children to develop their confidence, balance, agility, co-ordination and most importantly, their attitudes towards physical activity and sport. We can't wait to welcome them all back again next week!