Health & Wellbeing Week 2018
Monday 11th – Friday 15th June 2018
Health and Wellbeing is about all of our pupils being able to make the most of their educational opportunities. At Tirlebrook, Health and Wellbeing is not a single subject or lesson but is integrated across our curriculum. Staff cover areas such as choices and changes, physical activity and sports, food and health and relationships, as well as mental, emotional, social and physical wellbeing. We provide a range of resources to ensure children feel happy, safe, included and respected in their learning environment. One week of every year is devoted to raising the profile of this important but often hidden element of the curriculum.
LACES
We are continuing to promote our Tirlebrook take on the 'Five Ways to Wellbeing' by reminding the children to regularly 'Tie Your LACES'. LACES is an acronym that helps us to remember how to achieve wellbeing in our everyday lives: Learn – try new things/develop new skills, knowledge and understanding, Activate – get active and get your body moving, Connect – spend time with a range of different people building relationships, Evaluate and Enjoy – know when you aren't feeling happy and do something that you know will increase your happiness and positivity/frame of mind, Share – give yourself to others whether that be through time, energy, kindness or money. LACES - these simple steps are helpful for everyone in our school community as we aim to achieve a balance in our lives and strive for happiness.
Monday 11th June 2018
Our Health and Well Being Week began with a full day of dance for all the children at Tirlebrook as the plans made by our pupil led Sports Council and our PE Team began to come together. The dance workshops were led by Phoebe and every class was involved and active throughout their session. The infant children enjoyed a range of cultural dance sessions whilst the juniors received street dance workshops. The children were confident and positive and, from the number of smiling faces, it was evident that they enjoyed learning the routines. At the end of the day, classes gathered in the hall to showcase their performances. The energy and enthusiasm on display was wonderful to see.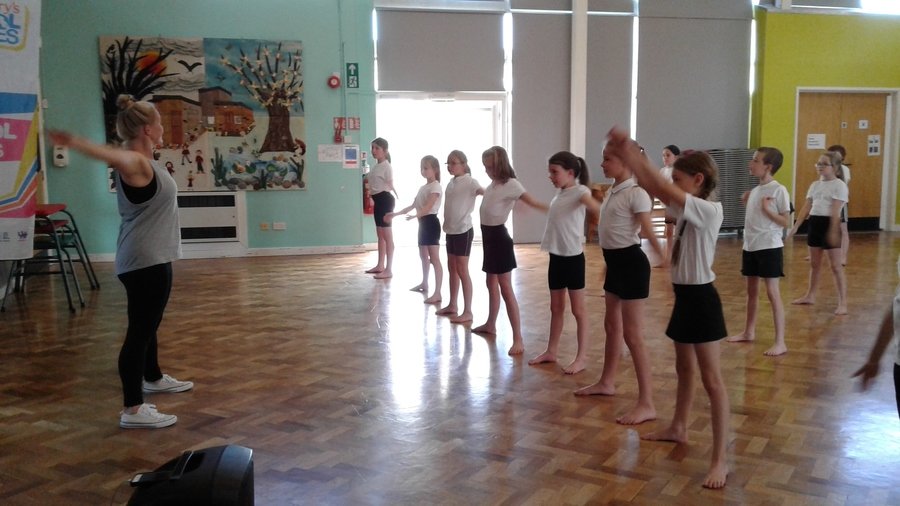 Tuesday 12th June 2018
We welcomed Progressive Sports into school who ran an exciting World Cup Roadshow, just a couple of days before this year's World Cup of football began. What a fantastic, immersive experience for our pupils this was, incorporating football player themed skills sessions at four different stations followed by a World Cup match to crown the winners. Whether it was dribbling like Messi, shooting like Kane, showing ball skills like Ronaldo or demonstrating fitness like Neymar, the children gave 100% towards each event at each activity station. The hard work and effort to develop their footballing skills was a delight to watch and these were put into practice in the small-sided games played at the end of each class's session. There were many opportunities for our pupils to reflect the School Games values – Honesty, Respect, Self Belief, Passion, Determination and Teamwork – as every child got involved and thoroughly enjoyed the World Cup Roadshow.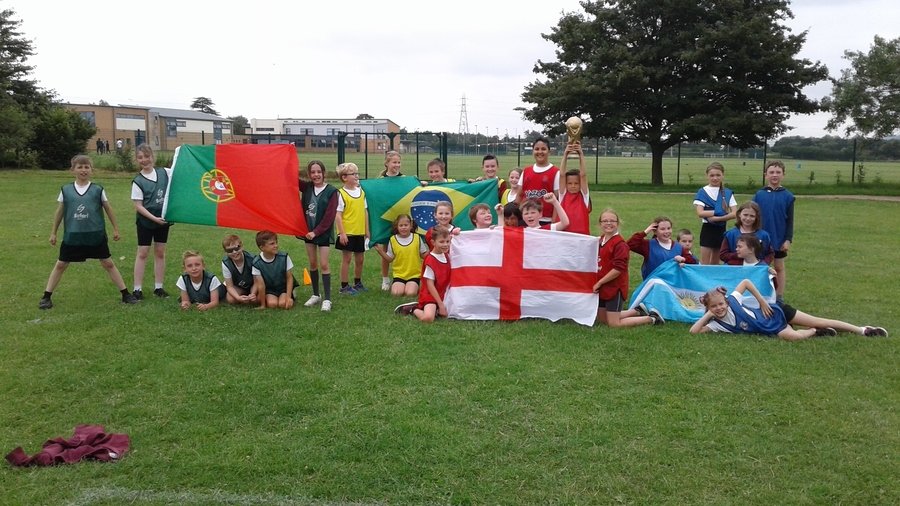 Wednesday 13th June 2018
Following an exciting day of football, Wednesday brought relaxation and calm as each class experienced a yoga workshop with Annette and Ellie. These workshops provided the opportunity to use breathing exercises, strength and flexibility positions to improve mental and physical well-being. The children responded positively and very much enjoyed the sessions.
Health Activator
As part of our ongoing work with the Cheltenham and North Tewkesbury School Sports Network, we are currently working alongside Luke Norman, a coach and lifestyle professional, who is coming into school regularly to help to deliver some aspects of the Health and Wellbeing elements of the curriculum. He works with every class delivering sessions about Healthy Eating and Lifestyles. He has also been spending time engaging some of the children in enjoyable active games at lunchtimes. In addition, Luke is a Level 3 qualified FA coach and he led our extra-curricular Y1 and Y2 Football Club on Wednesdays after school until the end of the Summer Term.
Thursday 14th June 2018
On Thursday there was great anticipation and excitement as we welcomed Mrs Kirsty McLaren back into school to lead some Zumba workshops. All of the classes (including Little Oaks Nursery!) got up on their feet to join in and dance Zumba style! The children couldn't help but get involved in the infectious routines led by the never-less-than incredible energy and enthusiasm of Mrs. McLaren and they thoroughly enjoyed the music and the dance moves. There was a great feeling of fun and positivity as everyone, including the staff, took part.
Friday 15th June 2018
And finally, we reached Friday, the last day of the week but the biggest day of Health and Well-Being Week: SPORTS DAY!
A superb time was had by all, as Sports Day kicked off with our new Sports Quiz, organised and led by Sports Council. Congratulations to Harry, Jack and Charlie in particular who voluntarily gave up their break times to create an exciting World Cup 2018 themed sports quiz for the juniors. The boys presented the quiz confidently and the KS2 children thoroughly enjoyed it. The points at the end of the quiz were added to the overall scores of Sports Day, with Montague taking first place position. The quiz was an excellent idea from our pupil led Sports Council and is one that Tirlebrook will be keeping in the future.
After break, the infants prepared themselves for their competitive races on the track, spectated by many members of their families. During this time, the juniors participated in playground games and activities, including netball shoot out, parachute, water relay, hockey slalom, target throw, penalty shoot out, hula hula challenge and volleyball. The house teams in each class scored points during each playground game which were then collated and counted towards their house team's overall score.
Lunchtime ran like clockwork, with all of our school staff happily helping to organise lunches and refreshments and in turn making sure that all of the children could enjoy this time with their families. A real community spirit filled the field as families and friends sat down in the sunshine to enjoy their food, enjoy the atmosphere and celebrate the fantastic efforts of the children and the school. Towards the end of the lunch period, a group of Y6 children gave a demonstration of NFL Flag Football and then everyone was invited to join in with the day's Tirlebrook 10 session. It was great to see so many children and families taking part at this time.
As the afternoon approached, it was the turn of the infants to join in with the playground games while the juniors took to the track. From Year 3 to Year 6, each class sat beside the track to enjoy the events, including bean bag relay, caterpillar relay, 50m sprints and the thoroughly entertaining egg and spoon, speed walk, sack, space hopper, skipping, balance, bean bag return and crab races. It was wonderful to see so many smiling faces from participants and spectators alike and the positive attitude and enjoyment on display was a credit to our school.
The whole school then came together to sing `Step it Up!', our Sports Day song, to begin our presentation. It was time for the results...
Hastings successfully gained the winning amount of points in the infant competition, with Wenlock securing first position in the juniors. Once all of the points were combined, the overall winners were Hastings. The House Captains lifted the Sports Day trophy with pride and there were great cheers all round. Congratulations to all the house teams for their efforts and to Hastings for their win.
As the week came to a close and the Sports Day equipment was packed away for another year, we could not help but appreciate the effort, energy, flexibility and positivity that goes into running such a busy and active week. There were so many opportunities for the whole school to explore, enjoy and excel together and to raise everyone's awareness of their mental, spiritual, social and physical wellbeing.
There are many people to thank for making Health and Well Being Week such a success. Thank you to all of the people who enabled our children to have so many opportunities: Phoebe, Mrs McLaren, Ellie and Annette, the two Jamies from the World Cup Roadshow, Luke our Health Activator, all of the Tirlebrook staff for their hard work, energy and enthusiasm, all of the children at Tirlebrook for being so positive about the experiences that come their way and of course to our families for their support and encouragement. Throughout Health and Wellbeing Week it has been fantastic to see the school's core values of Creativity,
Environment, Positive Attitude & Community being put into action.