Read on to find out about our sporting curricular and extra-curricular opportunities
as well as other experiences for the academic year 2019-2020
2019-2020
Cheltenham and District Quicksticks Hockey League – Round One - Monday 9th March 2020
Our Y6 hockey team braved the wind, rain and bitterly cold conditions to participate in Round One of this year's Cheltenham and District Quicksticks Hockey League. Held at Pates Grammar School in Cheltenham, fourteen teams gathered to fight it out for the right to be crowned Quicksticks champions and progress to represent the Cheltenham District in the Gloucestershire School Games finals later in March. After a sluggish start against eventual champions Dunalley, losing 4-1, the team really hit their stride and were highly competitive throughout the remainder of the competition. A narrow 3-2 defeat to St. James promised of the improvement to come, and this was followed by two wins (4-1 v. Holy Apostles and 4-0 v. Oakwood) and two draws that we really should have won (1-1 v. Gretton and 3-3 v. Bishop's Cleeve). The teamwork on display was fantastic and there were some wonderful individual hockey skills on show. Isobel's strength in defence was matched by Matthew's fluent dribbling and Owen's vision and precise passing. Hayden really got stuck in and set up several goals with her tenacious play. And they were all committed to the cause. A lot of bravery was required, not only to survive the brutal weather conditions, but also to continue without a substitute in sight following one bruised nose from a flying ball and one bruised leg from a whack from a stick. At the end of it all, the children were tired but elated. Due to our excellent scoring, the team secured a third placed finish overall and picked up bronze medals with which they were absolutely delighted. But most importantly, it was a hugely enjoyable evening. There was lots of fun and laughter, great camaraderie and kindness, care and encouragement aplenty. We could only tell these super children how proud we are of them! Well done!
Team: Matthew F (captain); Owen B, Hayden D & Isobel M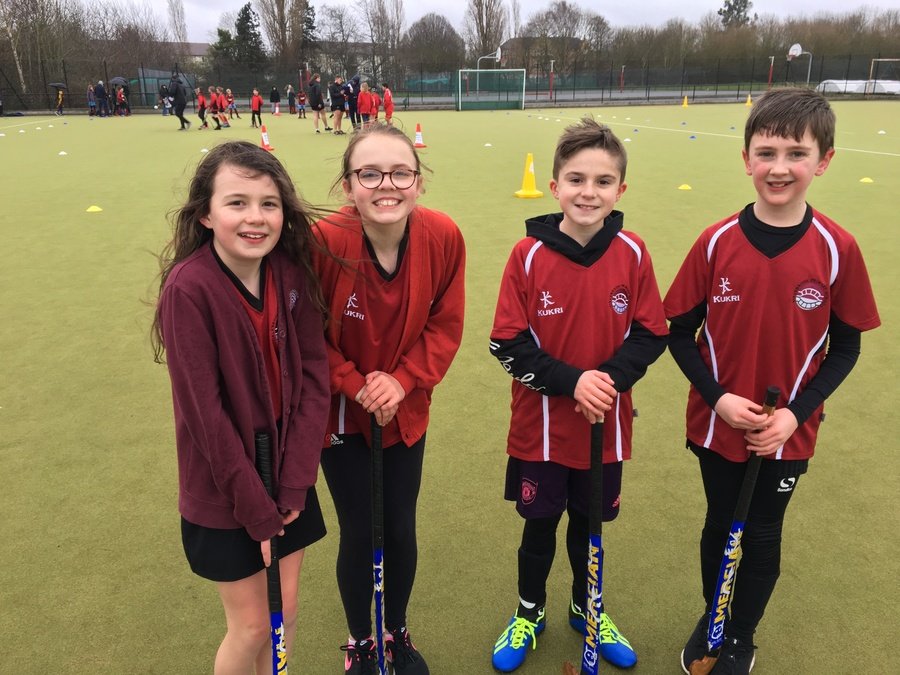 Tewkesbury Primary School's Cross Country – Fun Run & Presentation - Thursday 5th March 2020
A small number of Tirlebrook runners gathered at Tewkesbury C. of E. Primary School last Thursday to participate in the season-ending Cross Country Fun Run. A couple of laps around the school field and a twisty run through a mini-maze later, the focus shifted to the presentations and final results. It has been an incredibly successful cross country season once more for us here at Tirlebrook and a number of successes need to be celebrated. Not only did eight children represent Tewkesbury in the County Cross Country Championships, but we also had a number of individual top ten finishers in the Tewkesbury competition who picked up medals and trophies. Huge congratulations to Tilly (3rd) and Julia (9th) in the overall girls' competition and to Ewan (1st), Owen (5th) and Finlay (7th) in the boys' event. It must be pointed out that Ewan made a clean-sweep of this year's races, winning all four in style. The team results were announced next and we are extremely proud to inform you that Tirlebrook has retained the large schools' title for the third consecutive year. This is an incredible achievement as we are one of the smaller schools in this category. The boys' team won their overall competition, also for the third year in a row, whilst the girls' team battled hard to finish second.
Perhaps the biggest success of all, however, is the mass participation in this event by Tirlebrook pupils. We have by far and away the highest number of runners at each event, on average 35 every week (that's more than a third of the children in the school eligible to run) and the positive attitude, encouragement and sportsmanship on display is a delight to behold. Every single child who represented the school contributed to our overall achievement and they deserve to be recognised. Cross Country Champions certificates were awarded to everyone who took part in at least two races and there were special awards for those who completed three or all four races. So congratulations to our terrific team – you deserve every bit of your success and we are all very proud of you. Well done to our Cross Country SUPERSTARS!
Tewkesbury Primary Schools' Netball League Round 2 – Tuesday 3rd March @ Tewkesbury School
Huge congratulations to our Y5 and Y6 netballers who headed over to Tewkesbury School on Tuesday afternoon to defend their Tewkesbury Primary Schools' Netball League title. Following an undefeated first half to the league, where they didn't even concede a single goal, the team knew that a second round of excellent performances would put them in with a chance of picking up the winners' shield. There was a slight change to the rules for this round as Bee Netball is the latest incarnation of junior netball to be promoted by England Netball so some minor changes were afoot. Further to this, the organisers imposed a strict ruling on the rotation of positions this time round, ensuring that participating players competed in every position. The team took all of this on board in what was a really very impressive performance. Owen scored a hat-trick in the first game as Tirlebrook defeated eventual runners-up Twyning 3-1 (this was the only time in the whole league that a goal was conceded). They followed this up with 2-0 and 4-0 victories against Carrant Brook and Ashchurch respectively before a final game 0-0 draw with The John Moore, a match which they completely dominated but just couldn't get the ball in the hoop! There was some strong opposition, particularly in this second round, making their performances even more spectacular. It must be said that their teamwork, sportsmanship and effort was second to none, making this the ultimate team triumph. The squad were awarded the shield to rapturous applause from supporting parents and other schools. Well done to Owen (Self Belief) and Leah (Determination) for picking up well-deserved School Games values bands – these were difficult to select from a truly outstanding team. It was great that both Mrs. Featonby and Mr. Lockley could be there for at least part of the competition, but the biggest thanks go to Mrs. Moysey and Miss. Moysey for faithfully running the Netball Club for weeks and weeks and for their selfless giving of time. They are brilliant coaches – so knowledgeable, so supportive and so encouraging. It was a wonderful evening for Tirlebrook. Congratulations to everyone who was involved.
Squad: Owen B (captain); William B, Matthew F, Zoe H, Isobel M, Chloe M & Leah T
Feet First Dance Festival – Tuesday 3rd March @ Cheltenham Town Hall
On Tuesday, 37 children from the KS2 Dance Club donned their Tirlebreakers T-shirts and superhero masks to perform in the annual Feet First Dance Festival at Cheltenham Town Hall. Dancing to a packed hall of parents and grandparents, the children strutted their stuff to Coldplay's 'Something Just Like This'. They performed with enthusiasm and confidence, remembering the four minute dance without fault. Working in pairs, on their own and in groups, the choreography allowed them to perform in different ways, with some brave children even performing some complicated lifts. Mrs. Perry, Mrs. Tyrrell and Miss. Camden were all very proud of the children, both when dancing in front of the audience and when backstage where they behaved impeccably. A huge thank you to the staff for accompanying and supporting the children throughout the day, including for rehearsals in the morning and over the lunch period. Special thanks to Mrs. Perry in particular, without whose commitment to Dance Club this year there would certainly not have been a performance. Very well done one and all!
Tirlebreakers: Naomi B, Tilly B, Olivia C-H, Poppy C, Lulu-Mai C, Martha C, Georgiana C, Joe C, Seren D, Ruben F, Julia G, Katie G, Maisie G, Rachel G, Keira H, Isabelle H, Olivia H, Zoe H, Emmie-Grace K, Sophie L, Zayra M, Lily M, Chloe M, Molly O, Lacie O, Isla S, Molly S, Rosie S, Emily T, Leah T, Martha W, Evie W, Annabelle W, Lola W, Betsy W, Hannah W & Lexi W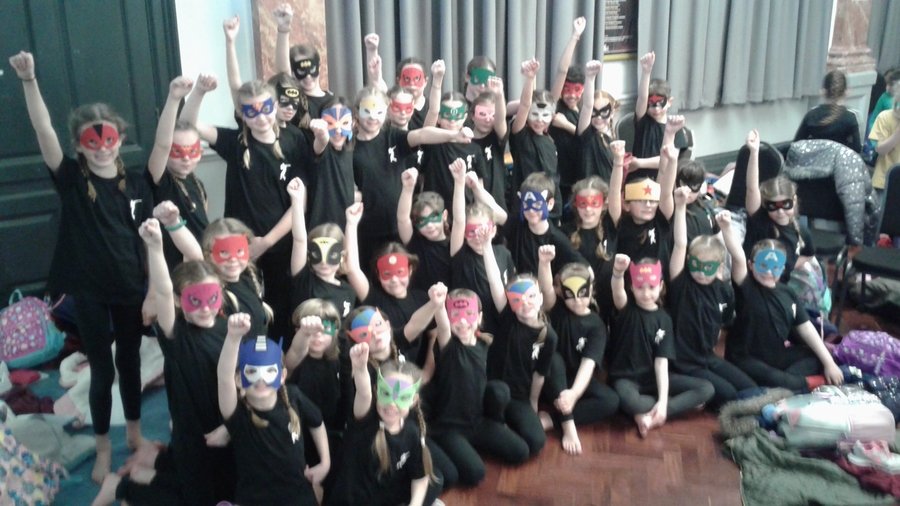 Gloucestershire County Cross Country Championships – Saturday 29th February @ Katherine Lady Berkeley's High School, Wotton-under-Edge
What an absolute privilege it was to be at the School Games Level 3 County Cross Country Championships last Saturday as the best 320 primary school runners in Gloucestershire competed. Eight county districts (Cheltenham, Cirencester, The Forest of Dean, Gloucester, North Cotswold, Stroud, Tewkesbury and Wotton & Dursley) selected their very best runners to compete against each other in four categories: Y4 & Y5 Boys, Y4 & Y5 Girls, Y6 Boys and Y6 Girls. With ten children chosen to take part in each category, the best 80 runners in Gloucestershire in each age-group came up against each other. And in the Tewkesbury team, out of 40 runners, eight came from Tirlebrook. That's one-fifth of the team – a truly magnificent achievement! To add to the difficulty for our children of running against such high quality opponents, the weather had been continuously wet for a significant period leading up to the event, meaning that the course at Katherine Lady Berkeley's in Wotton-under-Edge was completely saturated before the first runner even set foot on the school fields being used. This meant for a very muddy morning! Thankfully, it remained dry throughout the event itself, although it can be seen from the photos just what a challenge it was. The children were given a Tewkesbury District shirt to perform in and a wristband chip timer to keep track of their performance.
Our children performed outstandingly. In the Y5 Boys' race, Ewan ran with his usual grit and determination and was first Tewkesbury boy home, achieving our best result of the day by finishing in a fantastic 19th position. The Y5 girls followed, with Julia first Tirlebrook girl back in 47th position, just ahead of Tilly (53rd) and Keira (71st). The ground was becoming increasingly slippery as the event went on and it proved even more challenging for the Y6 children. In the boys' race, Finlay ran the race of his life to be not only the first Tirlebrook boy home, but the first Tewkesbury boy home, in an excellent 32nd position. He was followed closely by Owen (57th) and Freddie (62nd). And in the last event of the day, Leah battled her way around what could only at that point be described as a quagmire to finish in 74th place. And remember, to qualify in the first place, they all had to complete four gruelling and extremely competitive races that formed our very own Tewkesbury Cross Country race series.
But to us all at Tirlebrook, the finishing places don't really matter. These children, along with their wonderfully committed parents, made a huge effort to get up super early on a cold and miserable Saturday morning to travel down to the other end of Gloucestershire to run against some of the best young athletes in the county in boggy, wet and windy conditions. There were a range of feelings on display, from excited to anxious and everything in between, including being stomach-churningly terrified of what the experience ahead had in store. We are so proud of each one of them. They represented Tewkesbury superbly, Tirlebrook outstandingly, and most importantly themselves terrifically by being the very best they could be. That officially makes them not only 'Cross Country Superstars', but all-round superstars in our eyes. And we can't say any more than that! Well done everyone!
County Cross Country Tewkesbury District Representatives: Owen B, Tilly B, Julia G, Ewan G, Keira H, Finlay M, Freddie P & Leah T
Tewkesbury Primary School's Cross Country – Spring Races – Race 4 - Thursday 6th February 2020
It was wonderful to see such enthusiasm from the children in Years 4, 5 and 6 as this year's Cross Country season resumed. A team of 34 children headed over to the only 'recently-recovered-from-being-really-flooded' Vineyards with approximately one hundred other children from other schools across the town. It was a bright and calm afternoon - perfect conditions for cross country running. However, the course was certainly challenging. Reversed from the Autumn Term races, it involved a long and steady incline as part of a slightly longer route. And thanks to the weeks and weeks of rain, the going was extremely heavy under foot. After a little while explaining the new route, the first race of the afternoon got underway. The boys took to the course first and put in a gritty performance. Ewan led from start to finish, but was pushed hard all the way to the line as he secured his fourth win from four races. What an achievement. Owen claimed a hard-earned 4th position once more to push his claim for a county cross country opportunity later this month. As the boys continued to finish, personal best performances were achieved as well as some impressive debuts made. Particular congratulations to first time runners Hayden (49th), Harrison (58th) and Jayden (96th) and also to Joe (54th) and George (56th) who achieved personal bests. Next it was the turn of the girls. It was perhaps even harder for them; the boys had churned up the course before them and it was turning chilly as we drew closer to early evening. The early theme of brilliant performances continued in this race with some outstanding running. Julia finished impressively to cross the line in a season's best 6th place and Tilly was not far behind in 8th position. The race was littered with personal bests: Leah (15th), Keira (16th), Isobel (21st), Emmie-Grace (53rd), Annabelle (61st), Emily (63rd), Lola (66th), Seren (70th) and Olivia (74th). There were excellent first-time finishes for Madison (17th), Alesha (22nd) and Summer (75th). And some statistically interesting facts … the two Chloes keep finishing in the same position! Chloe C has finished the last two races in 54th (having finished 55th in the previous one) and Chloe M has crossed the line in 41st position for the last three races in succession. Incredible! Many thanks once more to both Mrs. Gosden and Mrs. Thomas for helping to organise the team and also to the many children and families who were there to cheer Tirlebrook on. It is greatly appreciated. Well done everyone – we are very proud of you. One more race to go … can we push on and claim that overall title for the third year in succession?
Squad: Charlie A, Owen B, Summer B, Tilly B, Alex C, Olivia C-H, George C, Isaac Co, Chloe C, Georgiana C, Joe C, Seren D, Edward F, Julia G, Katie G, Ewan G, Alesha H, Keira H, Emmie-Grace K, Hayden L, Paddy M, Finlay M, Isobel M, Chloe M, Freddie P, Jayden P, Madison R, Joshua S, Emily T, Leah T, Harrison T, Annabelle W, Lola W & Betsy W
Tewkesbury Primary School's Football League – Round 2 - Tuesday 4th February 2020 @ Tewkesbury School
Our team of Y6 footballers headed over to Tewkesbury School to play in the second round of this year's Tewkesbury Primary School's Football League. On arrival, it was great to see that three of our former pupils, Oscar, Luke and Callum, were once again refereeing. This time we grabbed them for a photo!
Having won two games and lost two games from the first round, Tirlebrook were still in with a chance of finishing in the top half of the league. An opening draw against a highly competitive Twyning side saw Tirlebrook take the lead through a delightful goal by Rhys. Many further chances came and went as Twyning defended stoutly and the goalkeeper made some very good saves. Just as Tirlebrook were holding out for a vital win, Twyning broke free and smashed in an equaliser. It was a very entertaining game. The second match of the afternoon saw Tirlebrook ease to a 2-1 victory over Ashchurch, although there were some scary moments towards the end of the match. Tirlebrook went in front thanks to yet another great finish by Rhys and extended their lead when George's long clearance was inadvertently poked in by an Ashchurch defender for an own goal. Ashchurch responded by scoring almost immediately, meaning that there was some late pressure on Tirlebrook's defence. However, they held firm. In the final match, Tirlebrook needed a win against Carrant Brook to give them a chance of finishing in third place. Despite dominating the game and hitting the post, the team just could not break through. Indeed, a world-class save from George in the final seconds prevented Carrant Brook from snatching a late winner. In the end, the team remained undefeated on the day but couldn't quite do enough to get in the medals, finishing fourth. However, they did finish in the top half of the league and played with outstanding sportsmanship throughout the competition.
Congratulations to Byran (Teamwork) and Rhys (Determination) for being awarded School Games values bands and thanks to Mrs. Gosden for accompanying the team.
Squad: William B (captain), Owen B, George C, Byran C, Matthew F, Jayden P, Daniel R, Joshua S & Rhys T
School Games Level 3 Sportshall Athletics County Finals – Winter Games - Thursday 23rd January 2020 @ Cheltenham Ladies' College
It was with a mixture of excitement and slight apprehension that our team of Y5 and Y6 athletes headed over to Cheltenham to participate in the Winter School Games for the very first time. By winning the area round of the Sportshall Athletics competition back in November at Tewkesbury School, Tirlebrook ensured qualification to represent the Cheltenham area in the county finals of the event. The team were greeted warmly on arrival by Old Spot, the Gloucestershire School Games mascot, and it wasn't long before they were warming up with the other 150 athletes to the Cha Cha Slide. Wearing orange team bibs, the track and field competition soon began as the team lined up alongside the other area winners: Hempsted (Gloucester), Hatherop (Cotswolds), Hope Brook (Forest of Dean) and Gastrells (Stroud). Every child took part in a minimum of four events – two on the track and two in the field. Events on the day comprised of 1 + 1 relays, 2 + 2 relays, 4 x 1 relays and obstacle relays on the track and chest push, standing long jump, standing triple jump, vertical jump, speed bounce and soft javelin in the field. Great performances were delivered throughout the competition and the team were superb at encouraging and supporting one another. We experienced particular success in both 4 x 1 relays: the girls' team of Zoe, Sky, Leah and Tilly came home in first place, whilst the boys (Daniel, Edward, William and Owen) finished in second position. Tilly and Zoe also finished second in the 2 + 2 relay. At the end of the competition, the teams gathered to hear the results. Tirlebrook just missed out on the medals, finishing agonisingly close in fourth position, but we couldn't have been more proud of the team and the brilliant way that they represented not only the Cheltenham district, but of course, our school. School Games values bands were awarded to Leah for 'Self-Belief' and to Ewan for 'Determination' and were richly deserved. However, it must be said that all of the School Games values were on display from every member of the squad. Many thanks to Mrs. Gosden for coming along to support and encourage the team and well done everyone – you are just great!
Results: 1st Gastrells, 2nd Hope Brook, 3rd Hatherop, 4th= Tirlebrook, 4th= Hempsted
Squad: Hattie A, William B, Edward B, Owen B, Tilly B, Sky D, Ewan G, Zoe H, Finlay M, Isobel M, Daniel R & Leah T
Tewkesbury Primary Sports Network's Swimming Gala – Wednesday 15th January 2020 @ Tewkesbury School
Tirlebrook sent two teams to this year's Tewkesbury Primary Sports Network's Swimming Gala, hosted by Move More, at Tewkesbury School's swimming pool. The two teams were made up of twelve children from Years 5 and 6 with six children in each team. Every child in each team competed in one of the following races: 1 and 2 lengths Front Crawl, 1 and 2 lengths Backstroke and 1 and 2 lengths Breaststroke, finishing with the Canon Relay in which every member of the team completed a length using a stroke of their choice. They also had a chance to take part in some fun events: Largest Splash, Smallest Splash and Most Stylish Dive. They were up against some stiff competition with teams from Ashchurch, Gretton and Twyning also competing. They had a very successful afternoon and our teams finished in 1st and 5th positions overall. Fantastic! There were individual winners in Ewan, winning the 1 length Front Crawl, Owen, victorious in the 2 lengths Front Crawl, and George, powering to first place in the 1 length Breast Stroke. Matthew, Freddie and Edward also won certificates for coming first in the Largest Splash.
Four children were recognised for demonstrating the School Games values: Freddie for 'Determination', Edward for 'Passion', Julia for 'Teamwork' and George for 'Self Belief'.
Many thanks to Mrs. Gosden for accompanying and supporting the two teams throughout the afternoon and very well done to all of the children for their excellent attitudes and wonderful determination. They all had a great afternoon and we are very proud of them.
Results: 1. Tirlebrook 1 36 pts, 2. Gretton 33 pts, 3. Twyning 1 25 pts, 4. Ashchurch 22 pts, 5. Tirlebrook 2 20 pts, 6. Twyning 2 11 pts
Squad: William B, Edward B, Owen B, Tilly B, George C, Byran C, Matthew F, Julia G, Ewan G, Zoe H, Freddie P & Maja R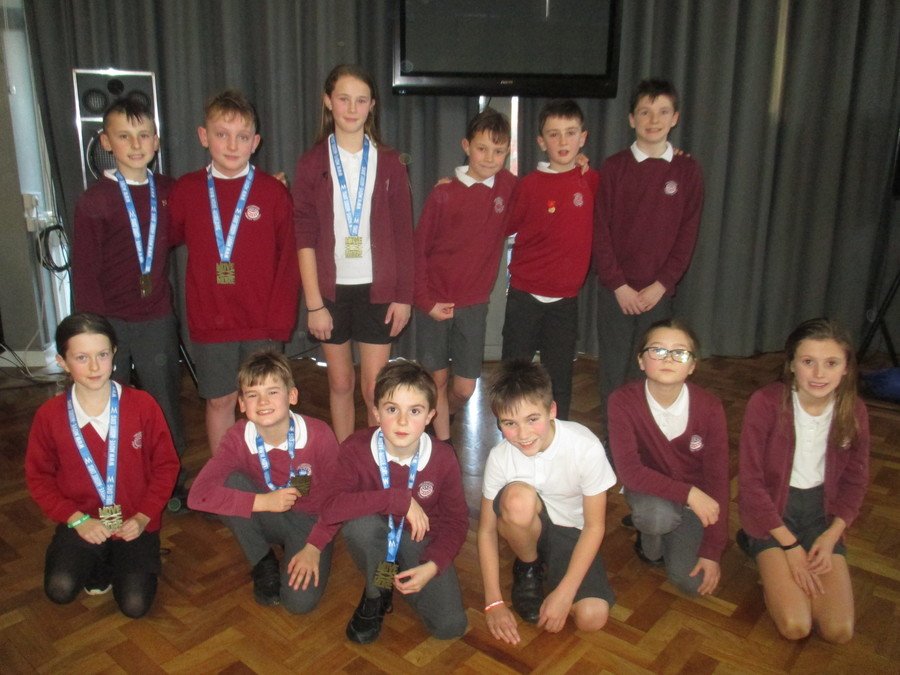 Y3 & Y4 New Age Kurling Competition – Thursday 5th December 2019 @ Cleeve Secondary School
Naomi, Seren, Ben and Jenson from Year 4 headed over to Cleeve Secondary School to compete in a brand-new event, the Level 2 School Games New Age Kurling competition, organised by Move More. The game of New Age Kurling is based on the traditional sport of Curling that is played on ice. In New Age Kurling, the competitors are required to push weighted plastic Kurling stones, which roll on ball bearings, towards targets. The closest Kurling stones to the centre of the scoring target wins the points.
Thirteen teams from various schools across the Cheltenham area competed. Tirlebrook were in Pool A and played five games, winning the first 2 games decisively. However, they couldn't beat the next three teams although they kept battling hard. They proceeded to the play-offs section of the competition where they won both of their final games. At the conclusion of the competition, Seren was rewarded for her 'Self Belief' with a School Games values band whilst Jenson also received one in recognition of his 'Passion'. All of the children had an amazing time and thoroughly enjoyed the experience. Many thanks to Mrs. Gosden for accompanying the children and supporting them throughout.
Team: Naomi B, Seren D, Ben R & Jenson T-S
Y5 & Y6 Football League Round 1 – Tuesday 25th November 2019 @ Tewkesbury School
Our Y6 football team headed over to Tewkesbury School for the first round of the Y5 & Y6 Tewkesbury Primary Schools' Football League. They played a total of 4 games in all – winning two and losing two. A slow start to the competition saw the team fall to a narrow defeat at the hands of the John Moore before a rather more resounding loss to Tewkesbury C. of E. Despite these early setbacks, the team never gave up and continued to remain positive. Following a team discussion and a change of formation, 2-0 and 3-0 victories ensued against Mitton and Queen Margaret's respectively. Rhys (2), Finlay (2), Jayden and Owen all found the back of the net throughout the afternoon and there was some excellent passing and teamwork on display. The results leave Tirlebrook handily placed to challenge for medals with a further three matches to be played when the next round of the league takes place in February. Congratulations to Owen (Passion) and Jayden (Determination) who were awarded School Games values bands in recognition of the attitudes they displayed throughout the competition. Many thanks too to Mrs. Gosden for accompanying the team and supporting them so positively.
Squad: William B, Owen B, George C, Matthew F, Jayden P, Joshua S, Rhys T & Finlay W
It was also great to see three of our former pupils, Callum, Oscar and Luke, who were all refereeing at the competition. They looked happy … and did a great job. It is brilliant to see them continuing with their sporting interests at secondary school and helping to run a competition that they themselves participated in and benefitted from just two years ago. Thank you guys!
Tewkesbury Primary Schools' Sports Network's Y3 & Y4 Football League Round 1 – Tuesday 19th November 2019 @ Tewkesbury School
On Tuesday afternoon, 22 children from Maple and Silver Birch classes created two squads to take part in the Tewkesbury Primary School's Year 3 and 4 Football League held at Tewkesbury School. Tirlebrook's keen players competed in six seven-minute long games during the afternoon, taking on teams from Ashchurch, Tewkesbury C. of E., Twyning, Gretton and Queen Margaret's schools. These turned out to be stiff competition, and despite numerous losses for both squads, Tirlebrook kept a positive attitude throughout the tournament. Some great goals were scored by the Year 4 team: Joshua scored a superb goal against Twyning, and Morgan gained a hat trick against Queen Margaret's. All players showed great teamwork and resilience and it was a really good experience. Individual School Games Values bands were awarded to Olivia C-H and Chloe C (Self- belief), Morgan S (Passion) and Isaac C (Determination). There will be another chance for the Year 3 and 4 footballers to compete in February, and we wish them all the best in their preparations for this.
Squad: Charlie A, Henry B, Alex C, Olivia C-H, Isaac Co, Riley C, Chloe C, Miles C, Isaac Cu, Hunter H, Olivia H, Jack H, Ryan H, Jack L, George O, Scarlet O, Ben R, Jack R, Morgan S, Emily T, Joshua T & Betsy W
Level 2 School Games Sportshall Athletics – Monday 18th November 2019
It was extremely exciting to take three teams over to Tewkesbury School to take part in this year's Level 2 School Games Small Schools' Sportshall Athletics competition. The event, which is a traditional Tirlebrook favourite and has become a highlight on the annual sporting calendar, is always competitive, great fun and extremely loud! With the latest tracks booming through the speakers throughout, including 'Baby Shark', the atmosphere was sizzling as the schools warmed up across the high-stepper, speed bounce, hurdles and reversaboard that made up the obstacle course. The obstacle run began the competitive races and as the afternoon progressed, our three teams participated in a range of indoor track and field athletic activities, including the 1+1 relay, the 2+2 relay, the chest push, the vertical jump, the javelin throw, the standing long jump, the speed bounce, the standing triple jump and the 4x1 relay. The children put in a wonderful effort throughout, not only in each event but also when cheering on their teammates. As the competition drew to a close, our three teams awaited their results. All of the teams performed excellently, scoring a high number of points in what was a very close competition. The very exciting news, however, is that the Tirlebrook Yellow Team amassed an incredible 268 points to secure Gold medals and qualify for the Level 3 School Games county finals for the first time ever. Wow! Several children were also awarded School Games Values bands for displaying such a wonderfully positive attitude throughout the event, including Tianna B (Determination), Tilly B & Byran C (Teamwork), Molly O & Daniel R (Self Belief) and Harrison T (Passion). Well done to all of the children for their outstanding effort and attitudes and a special thank you to Mrs. Gosden and Miss. Voller for accompanying the children, supporting the teams and enabling the event to happen. Well done!
Tirlebrook Orange: Tianna B, Hayden D, Scarlet D, Edward F, Oakley H, George R, Madison R, Ayan S, Joshua S, Harrison T, Evie W & Lola W
Tirlebrook Pink: George C, Byran C, Matthew F, Julia G, Alesha H, Keira H, Isabelle H, Daniyal K, Chloe M, Molly O, Jayden P & Rhys T
Tirlebrook Yellow: Hattie A, William B, Edward B, Owen B, Tilly B, Sky D, Ewan G, Zoe H, Isobel M, Daniel R, Leah T & Finlay W
Result: 1. Tirlebrook Yellow 268 pts; 2. Twyning Red 250 pts; 3. Holy Trinity Sky 234 pts; 4. Holy Trinity Green 188 pts; 5. Tirlebrook Pink 184 pts; 6. Tirlebrook Orange 148 pts; 7. Twyning Blue 140 pts
ESFA Football Competition – Tuesday 5th November 2019
A squad of ten footballers from Y5 and Y6 headed over to Tewkesbury School to take part in this year's ESFA Football Competition, the winners of which would progress to the county finals in December. Competing in the Large Schools' section of the competition, Tirlebrook came up against five other schools. The afternoon started well as George scored a hat-trick on the way to a 5-0 victory against Queen Margaret's. This was followed by two 0-0 draws with Carrant Brook and Mitton Manor respectively, games which Tirlebrook dominated and had good chances to score to secure a victory. The final two matches, against Tewkesbury C. of E. and The John Moore, ended in defeat despite the excellent effort of the team. School Games values bands were awarded at the competition's conclusion; well done to George (Teamwork) and Oscar (Self-belief) for displaying the values so clearly. It was a great afternoon, and despite the disappointment of ending with two losses, the team spirit was always excellent and the positive attitude on show was a credit to our school. Many thanks to Mrs. Gosden for supporting the team and accompanying them throughout the afternoon. Well done!
Squad: Edward F & Freddie P (joint captains), William B, Oscar D, Matthew F, Ewan G, Keira H, Oakley H, Ollie K-S & George T
Tewkesbury Primary Schools' Sports Network's Cross Country Autumn Term Races - Race 3 - Thursday, 17th October 2019
Our runners put in another quite brilliant effort in the final event of the Autumn series of races in the Tewkesbury Primary School's Cross Country competition held at the Vineyards. Returning to the original circuit following the changes forced by the flooding last time out, the children knew that a long and tough race was ahead of each of them.
The girls headed out first and an impressive 20-strong team of Y4, Y5 and Y6 runners took to the course to represent Tirlebrook. In another very competitive race, Tilly impressed again, managing to split the Lockley twins to come home in a very impressive 4th place out of 85 runners altogether. Julia was next Tirlebrook girl home in 14th position, followed by Georgiana in 19th. As the girls streamed through the line, several could celebrate earning a personal best (PB) finish: Keira – who has the very strange habit of finishing in exactly the same position as her shirt number! - (23rd), Betsy (43rd), Chloe C (54th), Frankie (59th), Emmie-Grace (60th), Isabelle (63rd), Tianna (70th), Lola (71st), Seren (78th) & Lily (84th). Well done girls – a terrific whole team achievement.
Next up it was the turn of the boys. In what was a highly competitive race, Tirlebrook experienced its greatest success as yet! Four boys finished inside the top 7 in a truly outstanding performance. Ewan crossed the line in 1st position for the third race in succession, although he was pushed all the way and had to work really hard for his victory. It really is sensational to see his continuous achievements and we are very proud of him. Owen came next in a battling 5th position, followed by Finlay finishing with a new PB in 6th and Freddie smashing his PB to finish 7th. And with PBs also for George C and Charlie in 61st and 62nd place respectively, it was a really successful event.
That's it for cross country for now until the Spring series of races which begin in early February. We are doing well in the competition overall but it may be tough to hang on to the trophies that we won last year. Our boys are currently leading the Large Schools' Boys Event, although they are being very closely pursued by the John Moore. Our girls are currently lying in second position in the Large Schools' Girls Event, behind leaders Mitton but being hotly pursued by third-placed the John Moore. The competition is exciting! But beyond this, the commitment, attitude, sportsmanship and teamwork on display from the Tirlebrook girls and boys is what truly makes this competition one of the best in the sporting calendar.
Squad: Charlie A, Tianna B, Owen B, Tilly B, Alex C, Olivia C-H, George C, Peyton C, William C, Isaac C, Chloe C, Georgiana C, Joe C, Seren D, Edward F, Julia G, Katie G, Ewan G, Keira H, Isabelle H, Emmie-Grace K, Paddy M, Isobel M, Lily M, Chloe M, Freddie P, Daniel R, Emily T, Leah T, Frankie V, Lola W, Betsy W & Finlay W
Tewkesbury & District Primary Schools' Netball League Round 1 – Tuesday, 15th October 2019
A massive congratulations to everyone who represented our school in the Tewkesbury & District Primary Schools' Netball League Round 1 event at Tewkesbury School. Four matches were scheduled for the first part of the league, with a further four to be played in the Spring Term. And out of the four matches? The team played brilliantly and won each one of them – without conceding a single goal! The team were in fact so prolific with their shooting, that it was difficult to keep count. Victories over Tewkesbury C. of E. (12-0), Mitton (at least 8-0), Queen Margaret's (at least 7-0) and Deerhurst (7-0) were achieved thanks to some exceptional netball skills, incredible teamwork, sustained positivity, an attitude of not giving up and a relentless desire to do their best. Team – you were outstanding! School Games values bands were awarded to Chloe for 'Self-Belief' and Matthew for 'Teamwork'. However, it was a dream-team performance and the staff all recognised that the whole squad displayed all of the School Games values throughout, particularly 'Determination' and 'Respect'. Thank you to the families who came along to support and a huge thank you to Miss. Moysey and Mrs. Moysey for coaching the team at Netball Club and managing and encouraging them throughout League Round 1. Congratulations!
Squad: William B, Owen B, Matthew F, Zoe H, Isobel M, Chloe M & Leah T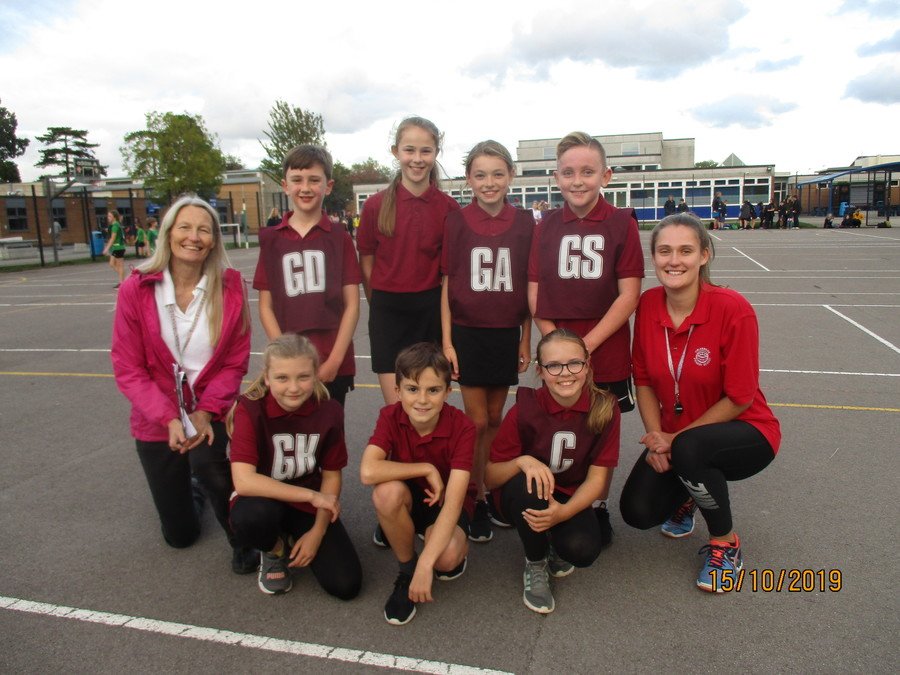 Tewkesbury Primary Schools' Sports Network's Cross Country Autumn Term Races - Race 2 - Thursday, 3rd October 2019
Imagine. It's the coldest day for months. The sky is grey and darkening by the minute. And it's been pouring with rain for days and the floods are beginning to rise. What would you do? Stay inside and keep warm, I'd suggest. But not our intrepid Cross Country Team! How incredible it was once more to have a huge team of Y4, Y5 and Y6 runners to take on Race 2 of the Tewkesbury Primary Schools' Sports Network's Cross Country Autumn Series, hosted by Move More. And this week we surpassed last week's number of participants by having 37 runners. WOW!
The races were moved to the top section of the Vineyards due to the flooding and it was set up so that two laps of a hilly course were to be completed. The boys ran first and once again performed amazingly. For the second week in a row, Ewan crossed the line in first position and then stayed at the finish to congratulate everyone else as they completed their run. Owen ran superbly again, improving this week to an outstanding 3rd placed finish, enhancing his PB once more. Personal bests were also a reward for excellent runs from Finlay, who improved to 7th, and Freddie, who made it in 12th. These are stunning results. But as stated last time out, it is not all about the fastest finishers. There were great runs all around in a larger field than last week and George C recorded an excellent PB in 73rd position.
The girls quickly followed and as last time, the race was very competitive. Tilly remained the first Tirlebrook girl home in a superb 4th position, with Georgiana recording an outstanding PB to come next in 13th. Julia was the next girl home in 19th meaning three girls finishing in the top 20. Personal bests were also achieved by Leah (28th), Peyton (53rd), Katie (54th), Chloe C (55th), Frankie (61st) and Emmie-Grace (63rd). These are impressive results in what was, yet again, a larger field than the previous week. Well done too to our first timers for the season - Betsy finishing in 46th, Isabelle in 78th and Lily in 92nd.
It was another outstanding event for Tirlebrook and we are all very proud of the children for representing the school so well, for their outstanding sportsmanship and finally for the excellent team spirit, embodied in the encouragement and support from the sidelines throughout.
It is also very important to mention the members of staff who give tirelessly of their time to support the event and help to manage the Tirlebrook team. Mrs. Gosden and Mrs. Thomas - you are both little angels!
Well done - let's keep this up!
Squad: Charlie A, Tianna B, Owen B, Tilly B, Alex C, Olivia C-H, George C, Peyton C, William C, Isaac C, Chloe C, Georgiana C, Joe C, Seren D, Edward F, Ruben F, Julia G, Katie G, Ewan G, Keira H, Isabelle H, Emmie-Grace K, Paddy M, Isobel M, Lily M, Chloe M, Freddie P, George R, Daniel R, Joshua S, Emily T, Leah T, Frankie V, Annabelle W, Lola W, Betsy W & Finlay W
Tewkesbury Primary Schools' Sports Network's Cross Country Autumn Term Races - Race 1 - Thursday, 26th September 2019
A super excited albeit tiny bit nervous team of thirty five Y4, Y5 and Y6 runners headed to the Vineyards to join hundreds of others for the first Tewkesbury Primary Schools' Sports Network's Cross Country race of the season, organised by Move More. The team gathered together in a huddle before the races, speaking words of encouragement and kindness to each other prior to their warm up. A short jog later and it was stretching time, led by some of our wonderful Y6 children.
It was the girls turn to race first and after a frantic start, the race soon settled down and the runners got into their rhythm. One full lap of the Vineyards later (and a bit more!), the girls were sprinting into the finish after running for nearly 1.5 km. The outstanding finish of the day was achieved by Tilly, who smashed her previous personal best (PB) by a country mile on her way to finishing third overall. Julia also obliterated her PB as she came in the top ten for the first time ever, crossing the line in 8th position. There were strong runs from many of the girls, but it was the sheer delight they took from completing the run that was most pleasing.
The boys followed on and, in what was an equally frantic start, several Tirlebrook runners edged out towards the front of the pack. After a titanic battle at the front of the race, Ewan managed to keep his nose (and the rest of his body!) in front to secure his first ever win in a cross country race. What an incredible achievement from one of our younger runners. What made this performance extra-special though was the respect on display. Having seen off the challenge of George from Twyning, Ewan turned and embraced him after crossing the line to congratulate him. Amazing sportsmanship! There were outstanding finishes too for Owen, who had a real spring in his step on his way to a fantastic fifth place finish, Finlay, who ran strongly throughout and in tenth place finished in that top ten for the very first time, and Freddie, whose strong and courageous start to the race ensured that his 18th position finish was a massive PB as well as something to aim to beat next time out. And the boys continued to come flooding in afterwards with great result after great result. They were hot, sweaty, in some cases sticky(!), but all happy. We are very proud of them all!
Many children completed the course for the very first time and showed great determination, resilience and positivity - and there wasn't a moan, groan, complain or pain in sight! Everyone now has a target to aim for - but as long as our team maintain their brilliant attitude, we are going to thoroughly enjoy cross country this season. What a fantastic way to kick off the sporting year!
Squad: Charlie A, Tianna B, Owen B, Tilly B, Alex C, Olivia C-H, George C, Peyton C, William C, Isaac C, Chloe C, Georgiana C, Joe C, Seren D, Edward F, Ruben F, Julia G, Katie G, Ewan G, Keira H, Harrison J-S, Emmie-Grace K, Paddy M, Isobel M, Chloe M, Freddie P, George R, Daniel R, Joshua S, Emily T, Chloe T, Leah T, Frankie V, Annabelle W & Finlay W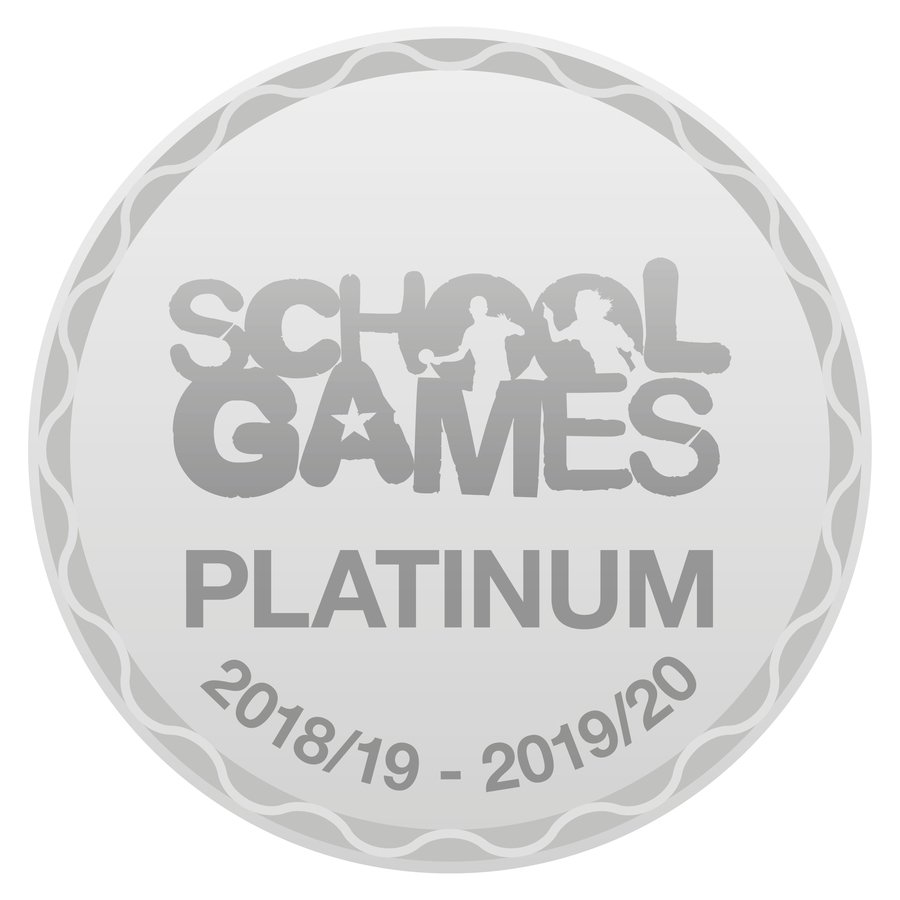 Tirlebrook Receives School Games Platinum Award - What An Honour!
We are delighted to announce that we have been awarded the School Games Platinum Kitemark for the very first time. This is the highest status of Kitemark that can be awarded. We are thrilled that we have been recognised for our consistently high-levels of enthusiasm and commitment to school sport by the School Games National Organisation. We are one of very few schools in the country to receive this honour.
The Platinum Award was launched in 2017 as an extension of the School Games Mark to reward schools who have maintained consistently high standards with and enthusiasm for their school sport provision. As part of the extended application, eligible candidates, who had achieved five successive gold awards or were likely to receive the gold award for a fifth consecutive year, were asked to submit a detailed case study along with a supporting paragraph from their School Games Organiser (SGO). To achieve the gold award a school must meet a high-level set of criteria, which includes engaging a high percentage of young people in both curricular and extracurricular activities, participating in a minimum number of competitions across different sports, and reaching out to target groups including young leaders, volunteers, and those previously identified as the school's least-active pupils. To do this for five successive years is very impressive - thus the awarding of the Platinum Kitemark.
This is an incredible achievement and we will hold this status for a period of two years until we will be required to apply again in the summer of 2021. Congratulations to everyone who has contributed to our success with the School Games - it is an honour to be recognised in this way.
We are determined to continue with our pledge to ensure that at Tirlebrook the children explore, enjoy and excel together in as many ways as possible.