Read on to find out about some of our arts and cultural opportunities and
experiences for the academic year 2017-2018
2017-2018
Shrek – The Musical – Thursday 19th April
Sixty children headed to the Wales Millennium Centre in Cardiff to watch a performance of the widely acclaimed musical Shrek. Described as 'a hilarious and spectacular production that turns the world of fairy tales upside down', this all-singing, all-dancing, must-see musical comedy certainly lived up to its billing. We joined Shrek and his loyal steed Donkey as they set off on a quest to rescue the beautiful, if slightly temperamental, Princess Fiona from her tower, guarded by a fire breathing love-sick dragon. We met the vertically challenged Lord Farquaad, a gang of fairytale misfits, a puppet who thought he was a little boy (and who had an impressive extending nose every time he said it!) and a biscuit with attitude. It was a wonderful experience and the children were transfixed throughout in our wonderful central lower stalls seats. Many thanks to all the staff who accompanied the visit and ensured that it could happen.
Kindness Day 2018
"Kind words can be short and easy to speak but their echoes are truly endless", as a wise lady called Mother Theresa once said.
Kind words and kind deeds have certainly been blossoming at Tirlebrook as our School Council have encouraged the whole school community to get involved in being kind and doing random acts of kindness for others. Our school has been a rainbow of colour and kindness. Each class has generated a whole raft of ideas about ways to be kind to others and have been finding inventive ways to be kind. There have been many great examples of pupils reflecting our school's core values of Creativity, Environment, Positive Attitude & Community through kindness today.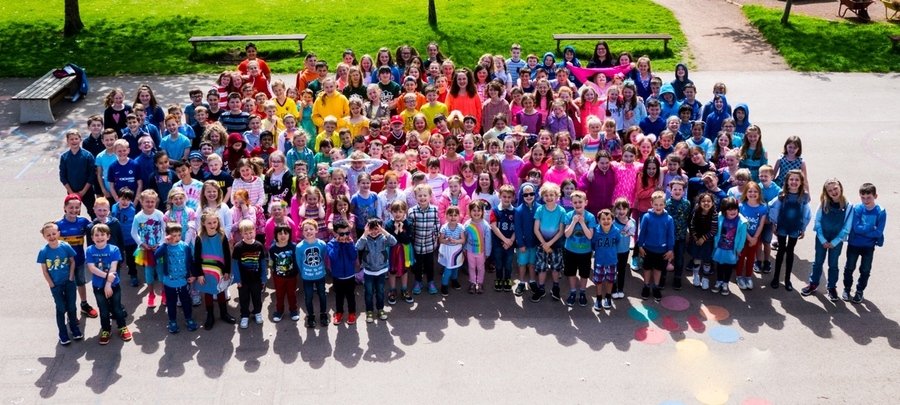 Y3 & Y4 'Tuishi Pamoja' Concerts
Tickets were very sought after for the wonderful performances of 'Tuishi Pamoja' as Y3 and Y4 took to the stage to share their version of a tale of an unlikely friendship under African skies. The effort and enthusiasm of the children has been commendable. They have learnt their lines, acted and sung with aplomb and thoroughly entertained their audiences. Congratulations on some truly fabulous performances. We were very proud of them!
Japanese Cultural Visit – Wednesday 21st March
Our Y5 and Y6 children had a wonderful experience when Yamawaki Gakuen School visited from Tokyo in Japan. 39 girls aged 14-15 years old came to Tirlebrook as part of their cultural tour of the UK organised by the Cotswold Wind Academy. This is the third year in succession that we have been able to welcome a large number of visiting Japanese students to experience what school is like in England. Our children took the girls on a brief school tour before engaging in some Japanese culture workshops. The children discussed different topics which encouraged the Japanese students to use their developing English language skills and they also took part in activities such as origami, calligraphy and food tasting. The students left feeling positive about their visit and gave the school some incredibly generous gifts to use in the future, such as a class set of calligraphy pens, for which we are extremely grateful. We do thank them and offer them our very best wishes for the remainder of their trip.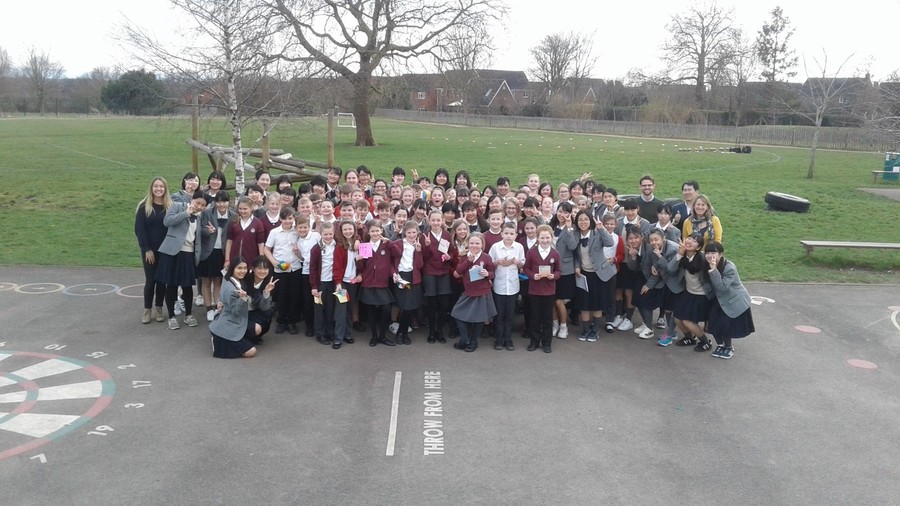 Singing Assembly - Tuesday 27th March
Our whole school gathered together once again in a Singing Assembly. Each class had prepared a song to share as well as everyone raising their voices together. All of the children performed brilliantly and clearly enjoyed performing, and listening, to each other. Thank you to all the staff and children for their enthusiasm and commitment to music at our school.
Music Assembly - Friday 23rd March
Thank you and well done to all our young musicians who played so confidently during our Celebration Assembly. It is wonderful to be able to enjoy the performances of our children who are working hard to develop their musical skills.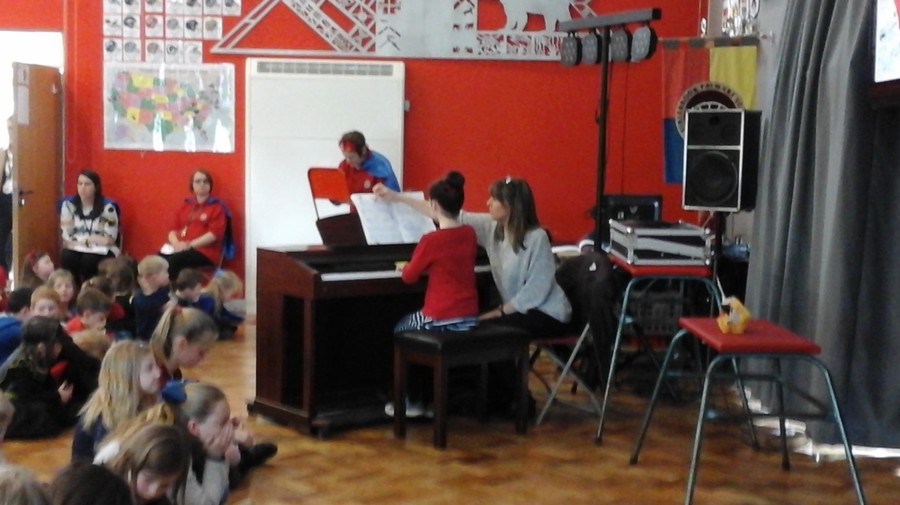 Roll Up! Roll Up!
Our Y5 children spent Thursday 22nd March enhancing the learning within their topic by being immersed in Circus Skills workshops. Thy embraced the opportunity to explore and try new things and thoroughly enjoyed the day.
World Book Day at Tirlebrook 2018
There was a lot of excitement and many wonderful costumes on Thursday 1st March 2018 as we celebrated World Book Day together. Our school's core values of Positive Attitude, Community, Environment and Creativity were certainly all on display. This global celebration of books is just one part of the many and varied ways in which we explore and enjoy books and reading at Tirlebrook.

Feet First Dance Festival 2018
Both our infant and junior dance groups exhibited their skills to great acclaim. Watch the videos below to get an insight into their performances.
Y1 Visit from The John Moore Museum – Wednesday 10th January 2018
Y1 enjoyed a fabulous afternoon with Jemma and Janet from The John Moore Museum as they got stuck into their latest topic, 'Toy Story'. The children were lucky enough to take part in a hands-on workshop all about toys from the past. They had the opportunity to play with board games, indoor and outdoor toys, have a go at calligraphy and make a peg doll. Thank you Jemma and Janet for a wonderful afternoon! Further photos can be found on the Cherry Tree Class blog …
Young Voices 2018 - Monday 8th January 2018
Our Y4 class had an amazing experience performing at the Genting Arena in Birmingham on Monday night as part of the Young Voices 2018 mass choir event. What an incredible occasion to be a part of with lots of memories to look back on. Participating and performing in musical experiences is such a great way to build confidence and teamwork as well as developing an appreciation of the arts.
Many thanks to our wonderful staff who prepared the class and accompanied them. See school blog for more photos.
Celebrating Music - Friday 10th & Friday 17th November 2017
In two of our Celebration Assemblies it was a delight to showcase some of the musical talent in school. We watched and listened to some of our young musicians performing. With practice and effort their confidence and skills are growing and the progress they have made is lovely to see… and hear. We were welcomed into assembly by our Y4 children who have been working hard preparing for their Young Voices concert in the New Year; they were also kind enough to sing us out! We also listened to some lovely keyboard playing as well as some drumming that kept everyone entertained. Well done to all our performers.
Dance Assembly - Tuesday 17th October 2017
It was a delight to watch many children participate in a special Dance Assembly organised by Mrs. Perry and Mrs. Booth. Year 5 performed their Greek Olympic dance and this was quickly followed by an energetic routine from our Infant Dance Club. Thirty-two children from Dance Club then performed to the Olly Murs track, 'Trouble Maker', and although the dance is still in its early stages, the routine was excellent. The assembly was rounded off by the whole school dancing along to an on-screen routine to one of One Direction's biggest hits. It was a very successful performance opportunity.
Y4 Visit to the Corinium Museum and Roman Amphitheatre – Thursday 5th October 2017
Silver Birch Class travelled to Cirencester to explore Roman history and enrich their learning about their current topic. They took part in an Active Learning session with a wonderfully engaging teacher who knew lots about Roman history. The children most certainly impressed her with their in depth knowledge about the Romans and Boudicca and it was great to see the children's learning challenged and shared. Y4 then spent time delving into different activities: dressing up as Roman citizens; sorting foods that the Romans would have enjoyed; learning about the cooking equipment they may have used; creating a variety of eye-catching mosaic patterns and playing some Roman games (please see Y4 class blog for photographs).
Next they headed over to the amphitheatre to extend their learning in the great outdoors.
The afternoon was spent exploring the museum and included lots of hands-on activities for the children to enjoy. They looked for clues and information amongst the exhibitions, found Boudicca's tombstone and a glass jar that was suspiciously found next to the body of a woman. What a busy day! The children were extremely enthusiastic and their manners and behaviour were fantastic! It was a positive educational experience and Y4 represented our school fabulously. Well done Silver Birch Class and a huge thank you to all the adults who accompanied them.