Read on to find out about some of our arts and cultural opportunities and experiences for the academic year 2018-2019
Farewell Mrs. Quelcuti - Thursday, 18th July 2019
Today we celebrated together as we said farewell to our Head Teacher of eight years, Mrs. Lisa Quelcuti. Mrs. Quelcuti has been employed at Tirlebrook Primary School since January 1994 and so has committed more than a quarter of a century to the school, firstly as Deputy Head and latterly as Head Teacher. A special farewell assembly included guest performances from members of Tewkesbury Town Band and various children from the school. Various presentations were made, including that of a Silver Birch tree given in memory of the 25 years of service to the Tirlebrook school community. The children created a guard of honour as Mrs. Quelcuti headed across the field to plant the tree. Following this, the children enjoyed a number of activities, including a Hoedown, circus skills and listening to Dr. Seuss stories read by members of staff. Families, former colleagues and governors were all invited to share in this time. It truly was a time of great joy and celebration.
UKS2 Show - The X-Factory - Tuesday, 16th July 2019
Our Year 5 and Year 6 children have been busily working on their end of year play and today they put on not one, not two, but three fantastic performances of The X-Factory. Year Five sang beautifully to support the wonderful acting of their friends in Year Six. Well done on three amazing showstopping performances!
Medieval Festival For Schools Day - Friday, 12th July 2019
What a brilliant time we all had at the Tewkesbury Medieval Festival 2019. It was a warm and muggy day but despite this, the children behaved impeccably and handled the conditions with great maturity. The children started the day witnessing a face-off between King Edward 4th of York and Queen Margaret of Anjou. A carousel of activities ensued: drumming and entertainment from the medieval musical courtiers; squire training using a number of weapons, including a sword, mace, axe and lance; archery; shield and spear drills (great fun, especially as the staff had the chance to attack the class with foam javelins!!); visits to the King's and Queen's camps. In between all of this, the children had lunch and several drinks breaks and some children were lucky enough to walk with the King's horse. The afternoon ended with two fantastic events. Firstly, there was a battle between the children (representing the King) and the French army in the Bloody Meadow - the children charged at the French with their mock swords and had a wonderful time re-enacting the famous Battle of Tewkesbury. This was followed by an energetic and exciting show by the Jesters before departing. Thank you to all of the families for supporting our arrangements for the day and to all the children for getting into character and costume and representing Tirlebrook wonderfully.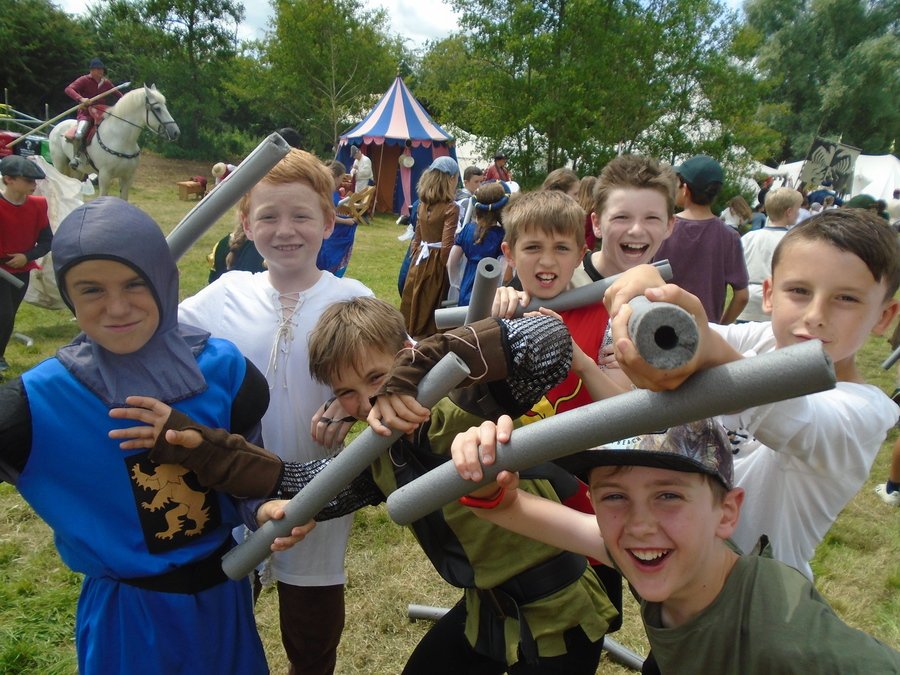 Medieval Festival Parade Large-Scale Artwork - Monday, 17th June 2019
Year 5 were chosen to create this year's large-scale artwork that will Tirlebrook will process with in the annual Medieval Festival parade on Sunday 14th July 2019. The children worked in small groups and were guided by artist Anita Andrews who has been inspiring the children to create some exciting artwork. The class started by building structures of Tudor housing using bamboo. This was followed by getting sticky fingered! The excellent teamwork on display resulted in some stunning artwork which will be proudly paraded in Tewkesbury later in the year. Well done.
Arts Week - Monday, 20th May – Friday, 24th May 2019
Arts Week has been a terrific occasion. The whole school turned its attention so that art was the focus as the children used much of their preparatory work over a number of weeks to create their final pieces that will be on display in our first ever 'Arts Exhibition' later in the year. As part of the week, we were also lucky enough to be visited by two resident artists - Ian Brealey, otherwise known as 'Doodle Man', who helped the children with observational drawings and cartoon sketches, and Jackie White, a clay specialist who helped the children to sculpt snails, 'Green Men' and a tile display of Tewkesbury among other things. There are some examples below of the work created by Rowan Class. They have worked hard to produce some wonderful pieces of artwork, mostly inspired by their visit to Tewkesbury Abbey earlier in the term. They have created stained glass window inspired work in two mediums: firstly using a wax resist technique, known as batik, the children had to master using a tjanting tool, which pours wax slowly onto a piece of material, requiring a steady-hand and a clear vision of the final outcome; secondly, using glass paints and beading outliner, the children carefully created their own symbol on perspex. In their clay work, they sculpted 'Green Men', based on the bosses that can be found in Tewkesbury Abbey. It's been a great week for everyone! Many thanks to all of the staff for their hard work but particularly to Mrs. Haidon, whose dedication and vision has seen this project come to fruition. Well done one and all.
Tewkesbury Abbey Visits for Arts Week - Year 5 – Wednesday, 8th May 2019
Year 5 braved the wet and windy weather on the walk to Tewkesbury Abbey. Despite arriving at the Abbey resembling drowned rats, the class didn't let a bit of rain dampen their spirits. The class were as positive and upbeat as always! ​Due to the adverse weather conditions, unfortunately we didn't make it onto the roof of the Abbey, however the class were able to have a mini tower tour, visiting the clock tower. It was great to find out lots of historical facts about the Abbey from our tour guide. The class were also able to take a walking tour around the main part of the Abbey, studying and discussing the many historical and religious objects, stained glass windows and architecture. The focus for the visit was to make some preliminary sketches in preparation for our Arts Week. The children enjoyed sketching gargoyles, statues and the eagle lectern, in particular. The class were able to make rubbings and use a range of materials to make their drawings. They practised looking at the objects to get a sense of proportion, and also considered line, texture and tone.
A HUGE thank you to the parents and grandparents who gave up their time to support Rowan Class today. Our apologies that we didn't make it onto the roof but we hope you enjoyed being part of our day. We're really grateful for your support. Well done and thank you.
'Hat's Off!' - KS1 Show – Tuesday, 2nd April 2019
Our KS1 children put on a wonderful performance of their spring show, 'Hat's Off!' Set on a farmyard, it was highly entertaining as the children sang, rapped, danced and performed in a range of roles. The musical took us on a tour through the changing seasons of the year, told cleverly by a tree whose life cycle took centre stage, as Apple the pony was trying to find a hat suitable for the weather. In the story she finds a lovely hat, but cannot seem to find the right season to wear it in. Everyone was relying on Einstein the cow to work it out, before the goats ate it! With a cast that included chilly chickens, Buster the howling puppy and the crazy party pigs, our children performed their hearts out. We are very proud of you all. Thanks especially to Mrs. Durrant, Mrs. Brown, Mrs. Spice, Miss. Stoker and Mrs. Booth for all of their hard work in preparing the costumes, staging and the performance itself. Most of all, many thanks and congratulations to our wonderful Y1 and Y2 farmyard friends.
Japanese Cultural Visit – Monday, 25th March 2019
Our KS2 children had a wonderful experience when Yamawaki Gakuen School visited from Tokyo in Japan. 34 girls aged 14-15 years old came to Tirlebrook as part of their cultural tour of the UK organised by the Cotswold Wind Academy. This is the fourth year in succession that we have been able to welcome a large number of visiting Japanese students to experience what school is like in England. Our children took the girls on a brief school tour before engaging in some Japanese culture workshops. The children discussed different topics which encouraged the Japanese students to use their developing English language skills and they also took part in activities such as origami, food tasting, flower arranging and a macha tea ceremony. Following the workshops, the whole school got together for an assembly where the Japanese students presented information about their school and some of our children performed a dance routine. The students left feeling positive about their visit and gave the school some incredibly generous gifts to use in the future for which we are extremely grateful. We do thank them and offer them our very best wishes for the remainder of their trip.
Feet First Dance Festival - Tuesday, 19th March 2019
This week, 28 of our KS2 and 20 of our KS1 children brushed up on their dance moves, tied their head scarves, dusted their dance shoes and headed to Cheltenham Town Hall for a dance extravaganza! The Feet First Dance Festival is one of our most exciting and anticipated events of the year. The children work right from September all of the way to March to prepare themselves, learning dance move after dance move and step after step.
During our after-school dance clubs, Mrs Perry and Mrs Booth have worked extremely hard to choreograph and lead the dance groups to not only learn a dance routine for the Feet First Dance Festival but to improve their stage presence and sparkle! On the day of the event, after piling onto the coach, the children headed over to Cheltenham to show the audience their amazing dance skills. The event began with a dance procession led by Mrs Leggett in which the children filed a long, excitable line and marched around the town hall in front of their audience. The KS2 dancers, wearing different coloured head scarves, led the way and began the festival with their acrobatic routine to Sam Smith's 'La La La'. Using a few cheerleading moves and a lot of complex hand movements, the children smashed their performance and wowed the crowd, not only by their moves but their smiles and effort too! Our younger dancers were up next, dancing to the very popular and chart topping, 'Shot-Gun' by George Ezra. The KS1 children loved their performance and we are extremely proud of them for performing in front of such a large crowd.
Well done to all of our performers for their efforts. We are extremely proud of you all! A very big thank you to Mrs Booth and Mrs Perry for their continued commitment, dedication and contribution to our dance clubs. They encourage and enthuse the children wonderfully and it most definitely shows with our little movers.
Thank you to all of the staff who attended the festival. We could not do any of these amazing things without you.
Performers: Josephine B-H, Amelia B, Martha B, Tianna B, Esme B, Summer B, Olivia C-H, Chloe C, Imogen C, Martha C, Georgiana C, Joe C, Julia G, Hattie G, Erin G, Rachel G, Alesha H, Layla H, Isabelle H, Olivia H, Layla H, Sofia H, Emily H, Zoe H, Matilda K, Urte M, Zayra M, Isobel M, Lily M, Poppy M, Sophie M, Scarlet O, Lacie O, Charlotte P, Orla P, Isla S, Molly S, Harriet T, Emily T, Leah T, Evie W, Betsy W, Hannah W, Lexi W & Luca W
World Book Day - Thursday, 7th March 2019
It was terrific to see the effort and hard work put into costumes by children throughout the school for the annual dress-up event that World Book Day has become. A variety of famous characters were on display from Oompah Loompahs to the Boy In The Dress, Miss Trunchbull to the Mad Hatter, Fantastic Mr. Fox to a Stormtrooper and various characters from the Harry Potter series. We even had a visit from Supertato and one child even came as a book about himself. Inspiring!
Y5 Greek Masks - Thursday, 14th February 2019
After weeks of hard work, Rowan Class proudly presented their Ancient Greek theatre masks to the world that they have been designing and making in art lessons. Miss. Voller has inspired everyone to produce some wonderfully high quality pieces of work of which we are all very proud. They are all unique in style and each have their own personality. I wonder if they match their maker? Well done everyone!
iSingPOP Concerts - Thursday, 7th February 2019
What a privilege it has been once more to work with the christian organisation iSingPOP. A very successful week of teamwork, music, RE and singing, led by our energetic and enthusiastic facilitators Chris and Shell, meant that a whole new set of songs have been learnt to use in school. With themes of patience, love, kindness and compassion, songs such as 'Lead Me Home', 'See Those Hands', 'You Make Me Sing', 'Fighting For Love', 'Joy' and 'When I Get That Feeling' really motivate us to think about how we can impact the community in a positive way - our own school community, the wider community, our homes, families and friends, and even the entire world! One week later, the whole school headed to Holy Trinity Church in Tewkesbury to perform all the songs that they had been learning in two amazing concerts - one in the afternoon and the other in the evening. Many thanks to Holy Trinity Church for hosting the event, to Tewkesbury Baptist Church for sponsoring the event and for providing all of the wonderful volunteers to help make the concerts so successful, to Shell and Chris for amazing and inspiring leadership, to our wonderful staff team for their enthusiasm for the project, to Mr. Lockley for organising everything and most importantly to the children for being just brilliant! These occasions really are special and we are so glad that so many of our families and school friends could share in it with us. Thank you everyone.
Matilda - The Wales Millennium Centre, Cardiff - Thursday, 10th January 2019
It was wonderful to be able to take 60 of our KS2 children to the Donald Gordon Theatre at the Wales Millennium Centre in Cardiff to watch a sensational production of Matilda. It was a brilliant show and the children behaved superbly - they were a real credit to our school. Well done everyone!
La Foret Performance - Wednesday, 19th December 2018
Rowan Class performed the French Christmas play 'La Foret' for Year 4 this morning. They learnt the play really well and have shown a big improvement in their French pronunciation. I'm sure Silver Birch Class enjoyed watching it, so a big well done! Joyeux Noel!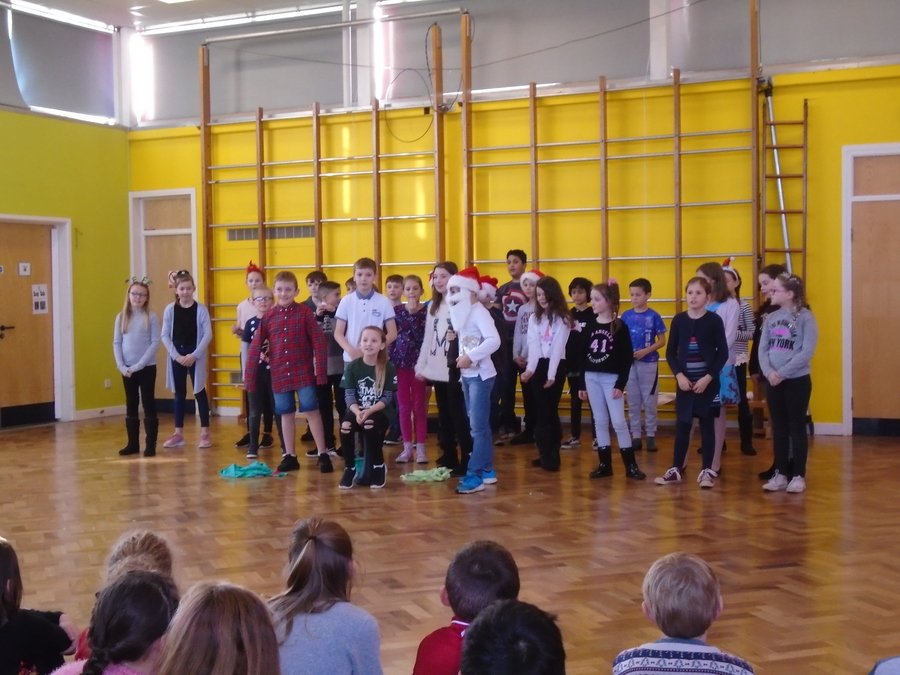 Y5 Visit Barton Court - Monday, 17th December 2018
Well done to Rowan Class for their super singing at Barton Court. With Santa hats, reindeer antlers, tinsel and bells, the class brought a whole lot of festive cheer to our elderly friends. They sang beautifully, and also loved having a chat with the ladies afterwards. What a wonderful way celebrate Christmas!
Reception Nativity - Monday, 10th December 2018
Congratulations to the children of Oak Tree Class who gave a wonderful Nativity performance. The Reception children sang beautifully and were particularly brave reciting their lines - how well they did in front of the whole school and their parents when performing for the very first time. Many thanks to Mrs. Akerman, Mrs. Haidon and Mrs. Moysey for all of their hard work and support. Well done to all of the children - the performance really was fantastic.
Y5 Bell Ringing - Thursday, 6th December 2018
Congratulations to all of the children In Y5 for their brilliant efforts at learning to play the bell plates over recent weeks and months. Mrs. Morgan has kindly given up her time to prepare and to come into school every Thursday morning since September. The children have worked very hard in teams to play three very well-known Christmas carols/songs: Silent Night, Away in a Manger & We Wish You A Merry Christmas. Many Y5 families supported the children as they performed at this year's Christmas Fair, but they saved their very best performances for a special assembly. We showed our gratitude to Mrs. Morgan by presenting her with a card and some flowers. Well done everyone!