Eco Council aka 'Green Team'
This year's Green Team are:
Year 1: Daisy Bundock
Year 2: Urte Matuseviciute
Year 3: Miles Cummings & Christopher Walters
Year 4: Rachel Gunston & Oliver King-Smith
Year 5: Byran Cotton & Ayan Sharif
Year 6: Martha Booth & Harriet Taylor
Our Eco Council are a hard working team of children who have lots of ideas about helping our school to become more environmentally friendly!
They are involved in running our annual Green Week and reminding everyone about recycling in school. They also award the 'Eco Friendly Class of the Week' each week in our celebration assembly.
They also organise community projects such as Tewkesbury in Bloom, litter picks and helping to develop the Woodland Workshop area of our school grounds.
Big Battery Hunt 2018
Tirlebrook has signed up to take part in Duracell's 'The Big Battery Hunt'. This nationwide challenge encourages children and young people to recycle batteries that are used at home. Please use the boxes that were sent home last week to collect any used batteries and once full, return it to school where it will be emptied into our battery recycling bin. Unfortunately, only enough boxes were sent for our KS2 children. However, children in Early Years and Years 1 and 2 are still encouraged to bring in any used batteries and deposit them at the school office. This initiative is not only helpful to the environment, but also a great opportunity for the children to become involved in recycling responsibly.
Eco Council Christmas Message 2017
Eco Council aka 'Green Team' have been discussing the environment, a core value of our school. They have recognised the issues around lots of Christmas cards coming into school. Every year in the UK alone, over 200,000 trees are pulped to create the cards sent over the Christmas period. In an effort to encourage caring for the planet the children would like families to consider whether they need to send Christmas cards into school. They have gathered lots of ideas about alternative ways of sharing Christmas messages and will be talking to all the children about them. One of their suggestions was to donate the money that would be spent on cards to a favourite charity.
Pumpkin Harvest 2017
With Environment being a core value at our school it was great for our 'Green Team' to spend time preparing, cooking and baking pumpkins grown on our own school allotment.
The children were enthusiastic and enjoyed learning how to prepare the pumpkin as well as seeing all the seeds inside. Under the watchful eyes of our wonderful 'Tirlecookers' Team – Mrs Spice and Mrs Tyrrell – the children followed a recipe to make pumpkin soup. They were all able to taste their soup which they thoroughly enjoyed.
The team then went on to use some of the pumpkins to make pumpkin pie. This included making shortcrust pastry and then combining ingredients to make a filling. When the pumpkin pies had baked in the oven the children were once again able to taste what they had made. It is fantastic for our pupils to plant seeds, to watch them grow and to then enjoy harvesting and making with our own produce. They were then able to take home copies of the recipes they had prepared and tasted.
Healthy Snacks
All our children who attend Little Oaks and all our pupils in Reception, Y1 and Y2 are provided with a free morning snack of fresh fruit and/or vegetables that change with the seasons. This is a great and healthy way to keep them energized until lunch. At school we teach our pupils that healthy snacks keep their brains and bodies running. Some of the fruits provided are strawberries, grapes, apples, pears and raisins and some of the vegetables include carrots, cucumbers and peppers.
We encourage our junior children to bring in a healthy snack too. Please avoid sending in snacks with wrappers and packaging as this becomes litter on the playground whereas all the fruit and vegetable waste such as banana skins and apple cores is recycled by our 'Green Team' into compost for the school allotment. Many thanks for your support in this as we work hard to encourage all of our pupils to learn about leading a healthy lifestyle as well as looking after our school environment.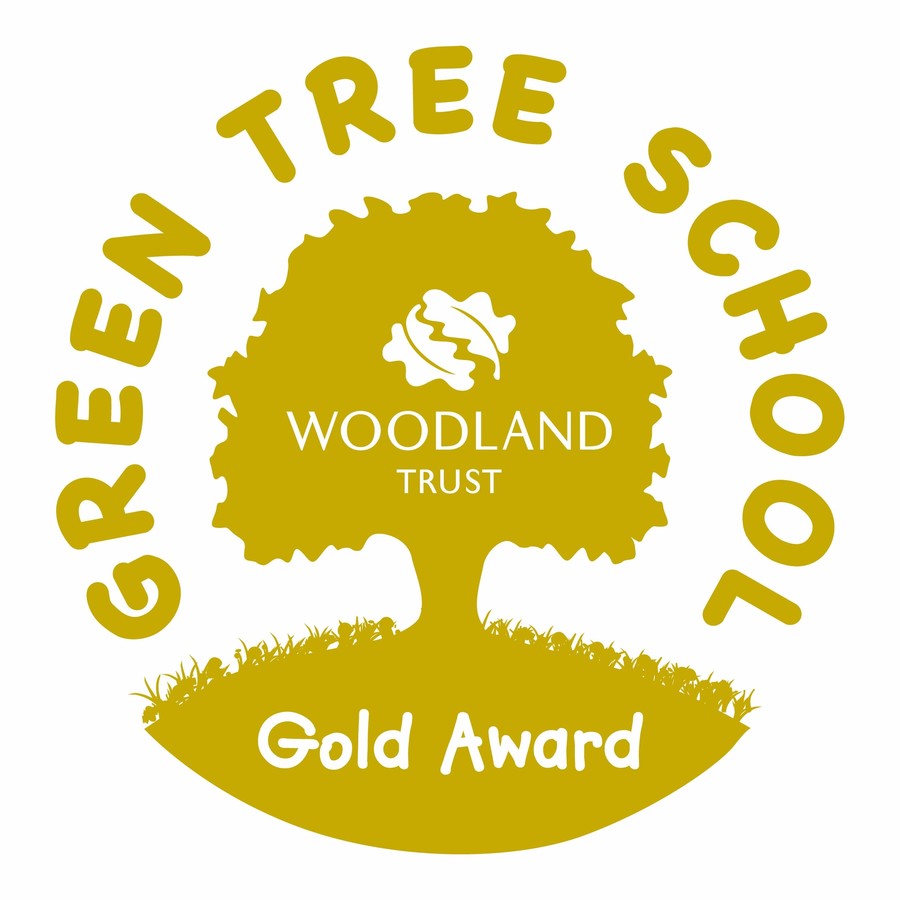 We were awarded the Woodland Trust Green Tree School Gold Award in 2016 which we are very proud of. Well done to the Eco Council and EVERYONE in school! Look out for the award when you visit our school!
House Harmony 2017 - 2018
Our KS2 House worked well together during their House Harmony sessions. Some great teamwork was on display as they worked to tidy up our school environment by collecting and tidying some of the leaves around the school grounds. They certainly demonstrated our core values of 'Community' and 'Environment.'
They have enjoyed an orienteering task where they had to 'crack the code'. Their aims included to:
1) be active
2) get thinking
3) work together
Sports Games Value stickers for Honesty and Teamwork were awarded as well.
Green Week at Tirlebrook 2017
It was lovely to finish last term by celebrating our school's core value of Environment. This year's Nature Quiz was very competitive as previous champions, Montague House, sought to retain the trophy. After some hard fought rounds, covering a wide range of knowledge about nature (thank you Mr. Lockley!), Montague relinquished their title and the trophy was awarded to our new Nature Quiz champions - Hastings House. There were also many outdoor learning opportunities throughout the week and a competition to design planting schemes for the house wheelbarrows. Many thanks to our house captains and head judge Mrs Jan Ellery for judging the wheelbarrow designs and choosing the winners. We are hoping to get them planted up as soon as possible.